Alex Murdaugh's attorneys appeal his convictions and life sentence
COLUMBIA, S.C. - Attorneys for Alex Murdaugh on Thursday filed a notice to appeal his convictions for the murder of his wife and son along with his life sentence.
The trial in rural South Carolina lasted six weeks and included more than 75 witnesses, but culminated in a jury taking less than three hours to find the 54-year-old Murdaugh guilty last week.
Murdaugh called 911 on the evening of June 7, 2021, saying he found his son and wife dead when he returned home from a one-hour visit with his mother, who has dementia.
Authorities said Paul Murdaugh, 22, was shot twice with a shotgun, each round loaded with different sized shot, while Maggie Murdaugh, 52, was struck with four or five bullets from a rifle. A crime scene report suggested that both victims were shot in the head after initially being wounded near dog kennels on the Murdaughs' sprawling rural property.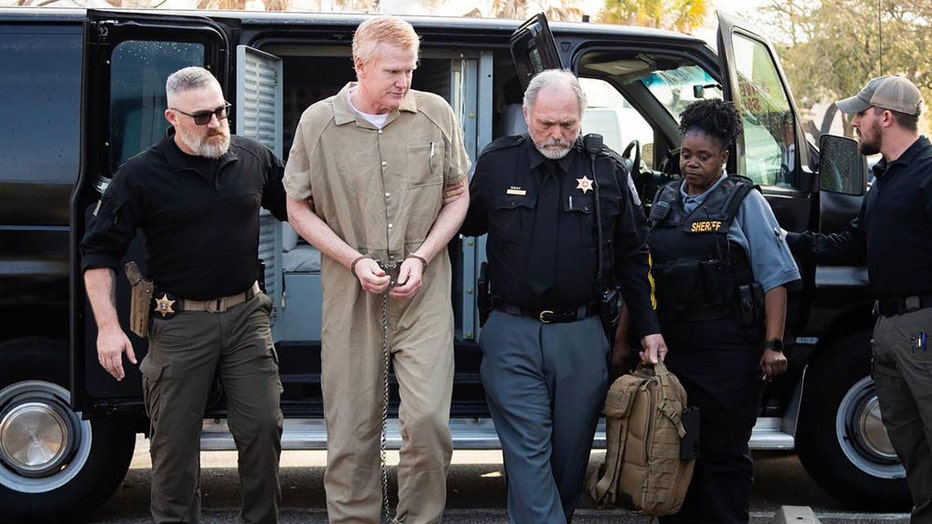 Alex Murdaugh is taken to the Colleton County Courthouse for sentencing on March 3, 2023, in Walterboro, South Carolina. (Joshua Boucher/The State/Tribune News Service via Getty Images)
Prosecutors took more than a year to charge the disgraced lawyer with murder but decided not to pursue the death penalty. Murdaugh, who is also charged with about 100 counts of financial and other crimes, adamantly denied any involvement in the killings.
Murdaugh could have received as little as 30 years behind bars, but the judge gave him the maximum: two consecutive life sentences without the possibility of parole.
After the trial, some jurors said that the key piece of evidence in finding the lawyer guilty was a video on his son Paul's cellphone that was shot minutes before the killings at the kennels near where the bodies were found. Murdaugh's testimony only cemented what they were already thinking — that he easily lied, and could turn on and off his tears at will, jurors said.
Attorney Dick Harpootlian filed Murdaugh's appeal to the South Carolina Court of Appeals.