Air traffic controller shortage: FAA to cut service to NYC by 10% this summer
NEW YORK - You might already be thinking about summer travel, but there could be trouble at the gate. Possible delays and fewer flights could affect all three of New York's major local airports this summer. 
The Federal Aviation Administration is struggling with a nationwide shortage of air traffic controllers. According to the FAA, the air traffic control center in New York is staffed at 54% compared to the national average of 81%. 
The agency is asking all major airlines Delta, Jet Blue, United, and American Airlines to cut service to all New York City area airports by as much as 10% for the summer months. 
"This is another unprecedented situation," Pauline Frommer, editorial director for Frommer's guide book, said. "We've never seen the FAA asking the airlines to cut flights because they simply don't have enough air traffic controllers,"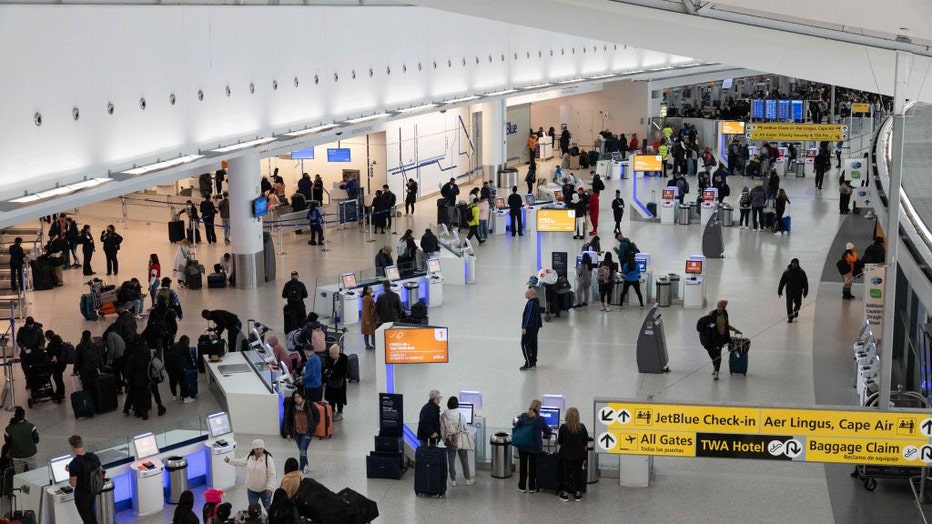 FILE - Travelers arrive at John F. Kennedy International Airport on Jan. 11, 2023, in New York. (Photo by Yuki IWAMURA / AFP) (Photo by YUKI IWAMURA/AFP via Getty Images)
Fewer flights mean less congestion and fewer delays, but it could also mean passengers may have to pay more for airfare. However, the FAA says not doing anything at all would cause massive delays. It says it could be 45% worse compared to last summer.
According to Frommer, it all stems from the pandemic. 
"It takes three years to train an air traffic controller and at the height of the pandemic, they stopped training them," Frommer told FOX 5 New York.
In a statement to FOX 5, American Airlines said: "In response to the FAA's slot waiver, American will temporarily reduce frequencies on select routes from LaGuardia Airport and Newark Liberty International Airport this summer. We're proactively reaching out to affected customers to offer alternate travel arrangements."
RELATED: Air travel made better: 20 rules of airplane etiquette no one ever tells you (but should)