After latest battery fire, Bronx officials call for changes
FORDHAM HEIGHTS - The flames and smoke that engulfed the Concourse Food Plaza on Sunday were so intense they could be seen from many blocks away. It was all caused, FDNY says, by a lithium-ion battery from a charged e-bike. 
Fire officials say there have been over 400 such fires since 2019, with more each year. It's a growing crisis, says FDNY Commissioner Laura Kavanagh. 
"This is an emerging threat in New York City. We have seen a quadrupling in e-bike fires just in the last few months alone," she said.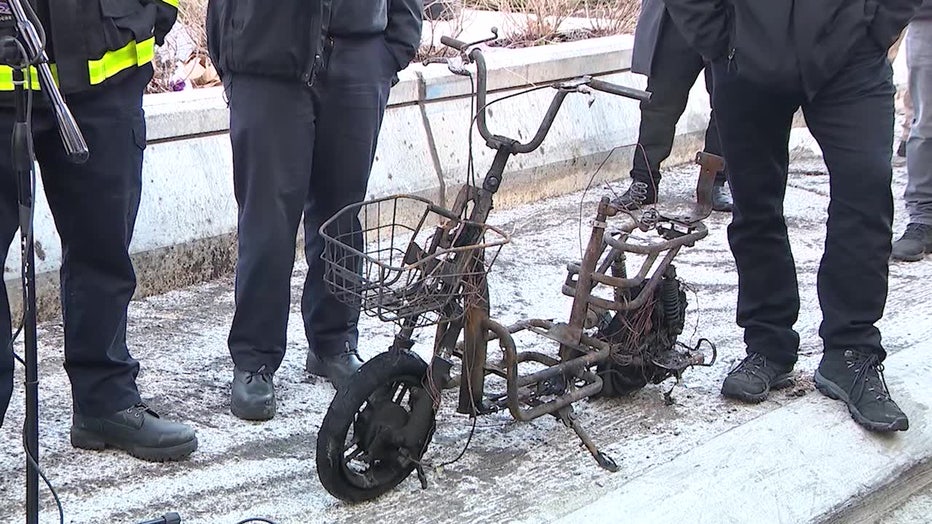 An FDNY training video shows just how fast the batteries can burst into flames, shooting them out with toxic smoke. There were more than 200 such fires in 2022, or about one every 36 hours. The City Council passed legislation that would require safety standards before more lives are lost and property ruined.
"Two hundred and twenty fires, destroying our businesses, destroying our homes, and leaving all of us worse off," lamented Bronx City Council Member Oswald Feliz.
"We know that the answer to this is education, outreach, and regulation. We do not want to disrupt our food delivery workers," added Bronx Borough President Vanessa Gibson.
PREVIOUS: E-bike blamed for Bronx grocery store fire that left 7 hurt
So far in New York City, there have been 12 deaths, including children, from the battery fires and more than 300 injuries. 
Currently there are no federal regulations governing the lithium-ion batteries or chargers like there are with other electrical equipment and appliances. Congressman Ritchie Torres says that needs to change immediately. 
"I'm introducing legislation that would require the Consumer Product Safety Commission to set mandatory standards for the design and manufacturing of e-mobility devices like e-bikes and e-scooters that rely on these lithium-ion batteries," he said.
Feliz says he and his colleagues are working on an exchange program so e-bike owners could turn in their substandard batteries for approved ones at no additional cost. 
LINK: For more on the city's efforts to educate the public about lithium-ion batteries, check out: https://www.fdnysmart.org/