5th bus carrying migrants from Texas arrives in Los Angeles
LOS ANGELES - A fifth set of buses carrying migrants from Texas arrived in Los Angeles on Saturday morning.
The newest buses arrived in downtown Los Angeles around 11:30 a.m. Saturday, according to Mayor Karen Bass' office. On board were 44 migrants including 13 children.
"The city has continued to work with city departments, the county, and a coalition of nonprofit organizations, in addition to our faith partners, to execute a plan set in place earlier this year," Bass' office said. "As we have before, when we became aware of the bus yesterday, we activated our plan."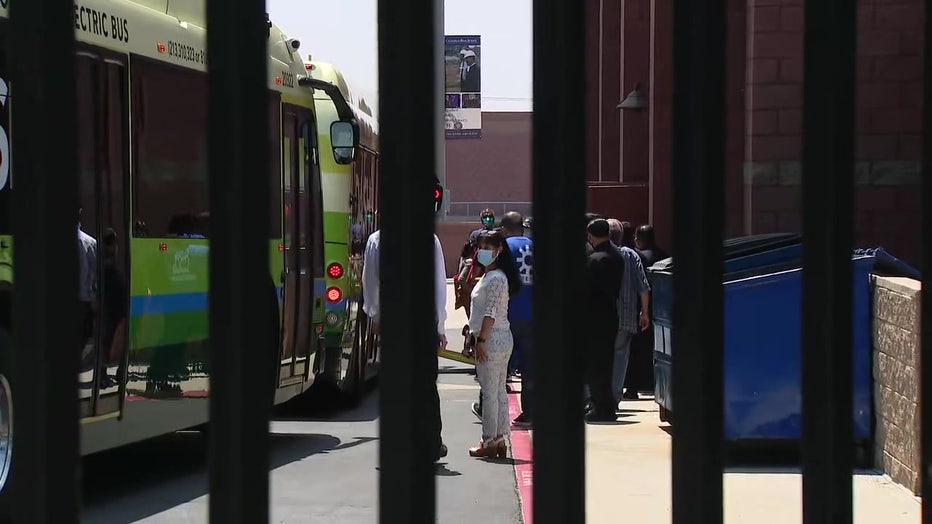 After the two buses arrived at Union Station Saturday morning, the migrants were taken to Cathedral High School. 
In an update Monday, officials said all migrants had reunited with loved ones in cities including Victorville, Modesto, San Diego, Oakland, and as far as Orondo, Washington. Seven of the migrants left by bus, 6 left out of LAX airport, and the rest were picked up by loved ones.
Migrants from Texas arrived in Los Angeles by bus for the first time back in June, then again over the 4th of July holiday weekend, and this newest bus will be the third in the last 10 days.
The migrants were bused in from the Texas-Mexico border and Texas Governor Greg Abbott has claimed credit for it, citing LA as a sanctuary city.
PREVIOUS COVERAGE:
According to Abbott's office, Texas has been chartering buses to take migrants from Texas to locations including Washington, D.C., New York City, Chicago and Philadelphia, and most recently adding Denver to the list of destinations. Since beginning the busing effort last spring, thousands of migrants have been shipped out of Texas to "these self-declared sanctuary cities," according to Abbott's office.