$5 million worth of fentanyl found in secret gas tank of SUV in the Bronx
Gas tank located in vehicle's rear floorboard. (Drug Enforcement Administration, New York Division)
NEW YORK - Officials seized over $5 million worth of fentanyl in the Bronx on Sunday.
Authorities found 300,000 fake oxycodone pills that contained fentanyl and five kilograms (over 11 pounds) of powdered fentanyl inside a secret gas tank compartment of a red Ford Expedition.
On Sunday, Drug Enforcement Administration New York (DEA NY) conducted surveillance as part of an ongoing investigation when they stopped the SUV in front of 295 East 161 Street.
At first, an NYPD K9 alerted the presence of narcotics in the vehicle, but agents and officers couldn't identify where exactly the drugs were.
READ MORE: $6M in fentanyl pills seized in the Bronx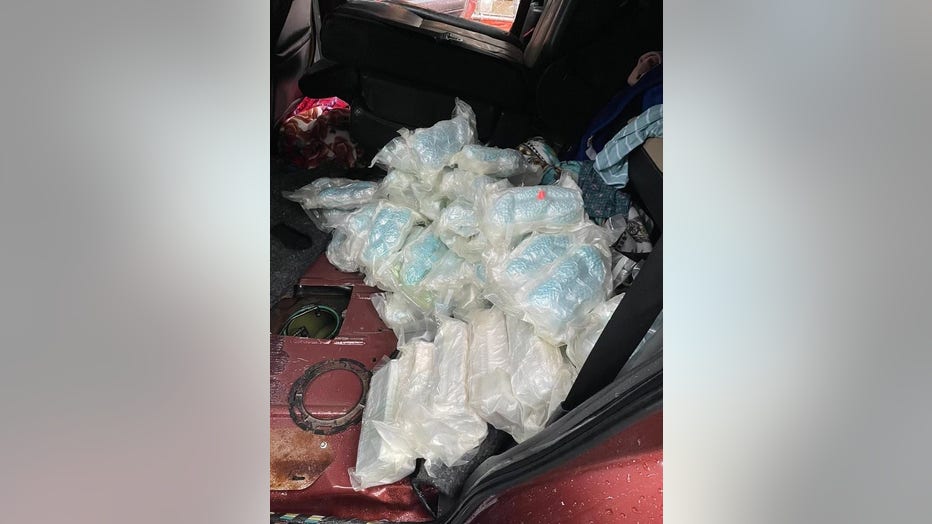 Close-up of fentanyl powder and pills. (Drug Enforcement Administration, New York Division)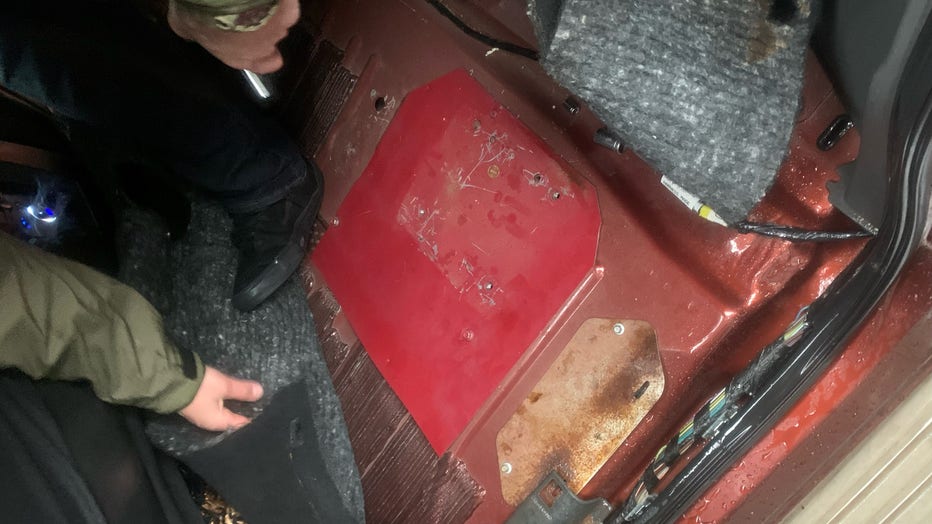 Gas tank covered on vehicle's floorboard. (Drug Enforcement Administration, New York Division)
Officer's allegedly found photos on the driver's phone that showed bundles of cash and a hidden access point to the gas tank from inside the vehicle. 
The gas tank was accessible from the rear floor area, where officials recovered the 300,000 fentanyl pills and five kilograms of powdered fentanyl inside vacuum sealed packages. 
DEA NY and NYPD officials arrested the man allegedly driving the vehicle, Enrique Perez, 44, from Columbus, Ohio.
After conducting an investigation on the seized drugs, officials believe the fentanyl may have originated in Mexico.
The investigation found that the Ford had crossed the U.S.-Mexico border multiple times. 
The results of DEA laboratory analysis on the narcotics seized are still pending.
Perez was arrested Sunday and arraigned Monday in Manhattan Criminal Court, where his bail is set at $200,000 cash/bond with a 72-hour security and GPS monitoring.
RELATED: Record seizure of fentanyl, opioids in largest international darknet trafficking operation
NYC drug trafficking pattern
DEA NY officials said the case fits a trafficking pattern that they have observed in recent months: people from out-of-state transport large quantities of fentanyl pills and powder in vehicles with out-of-state license plates in order to distribute in NYC.
"At a time when our city's overdose rates are at a record high, the discovery of more than eleven pounds of powdered fentanyl and hundreds of thousands of fentanyl pills manufactured to look like prescription pills, concealed in the gas tank of a truck near the Bronx Court House, is truly alarming. We will continue to work with our partners to seize deadly drugs before they ever hit the streets," said Special Narcotics Prosecutor Bridget G. Brenna.
NYC drug overdose deaths
Experts are sounding the alarm on what they call the 'greatest threat ever.'
The latest data on drug overdose deaths in New York City have increased in 2021 by 78% from 2019 according to nyc.gov.
The New York City Department of Health says about 80% were due to fentanyl, a synthetic opioid about 50 to 100 times more potent than heroin. 
Fentanyl-laced heroin was found to be the cause of the accidental overdose death of beloved film and TV actor Michael K. Williams.
What is fentanyl?
Fentanyl is a synthetic opioid that can be up to 100 times stronger than morphine, according to the U.S. Centers for Disease Control and Prevention and the U.S. Drug Enforcement Administration.
Pharmaceutical fentanyl was developed for pain management treatment of cancer patients and applied in a patch on the skin. 
The CDC estimates that in the 12-month period ending in October 2021, more than 105,000 Americans died of drug overdoses. Approximately 66% of those deaths were related to synthetic opioids like fentanyl.