3 senior dogs find forever home in 'miracle' adoption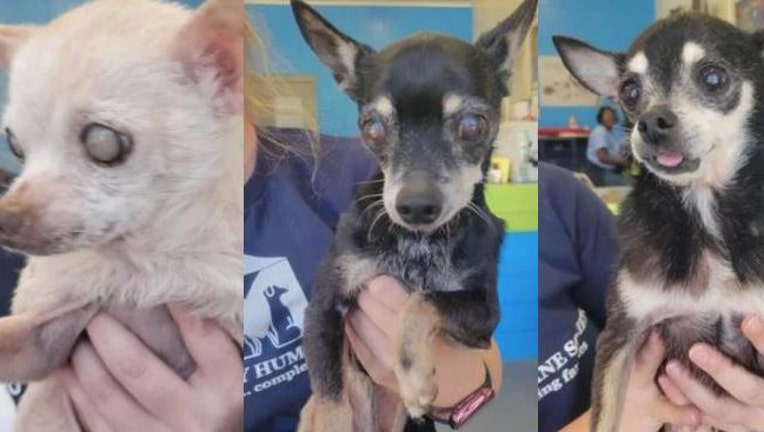 article
Older dogs living in shelters can face an uphill climb to find a forever home, and this was the case for three pups in Alabama. 
After being given up by their owner due to health issues, the 15-year-old chihuahuas found a temporary home at the Montgomery Humane Society. 
The agency realized the importance of keeping the "Golden Girls," a nickname given to the trio by the humane society, together, and they reached out to the public on their Facebook page saying that they needed a "miracle" to help the dogs find a new owner.
RELATED: Husky dog who was called 'ugly' for crooked smile finds family who drives 2.6K miles to adopt him
"Three 15-year-old chihuahuas were surrendered due to the health of their previous owner! The three senior girls need adopters that will be willing to take them as they are! They may not have a long time left, but they deserve love until their very last moments," the Montgomery Humane Society wrote on their Facebook page.
"We realize keeping them all together will be next to impossible so don't be afraid to apply if you can change the world of just one of these girls! This situation is emergent and as stated above, you'll have to commit to everything that comes with the care of a senior!"
Once the post circulated on social media, someone contacted the shelter to adopt the friends. 
RELATED: Virginia retiree adopts 40 pound cat
The Montgomery Humane Society expressed their gratitude writing, "All three have a wonderful home secured TOGETHER. Thank you for all your shares! You've moved mountains!" 
According to the American Kennel Club, chihuahuas live on average between 14 and 16 years, and they can have difficulty with their sight, kneecaps, and hearts in their older age.
This story was reported from Washington, D.C.