2 surrender in Houston in connection to drug ring looking to smuggle $1M worth of drugs into U.S. prisons
Houston - It's being called one of the largest drug busts of its kind and two people wanted by U.S. Marshals, Noah Stegall and Keierra Hunter, surrendered to officers here in Houston Tuesday. Our cameras were rolling as deputies took them into custody.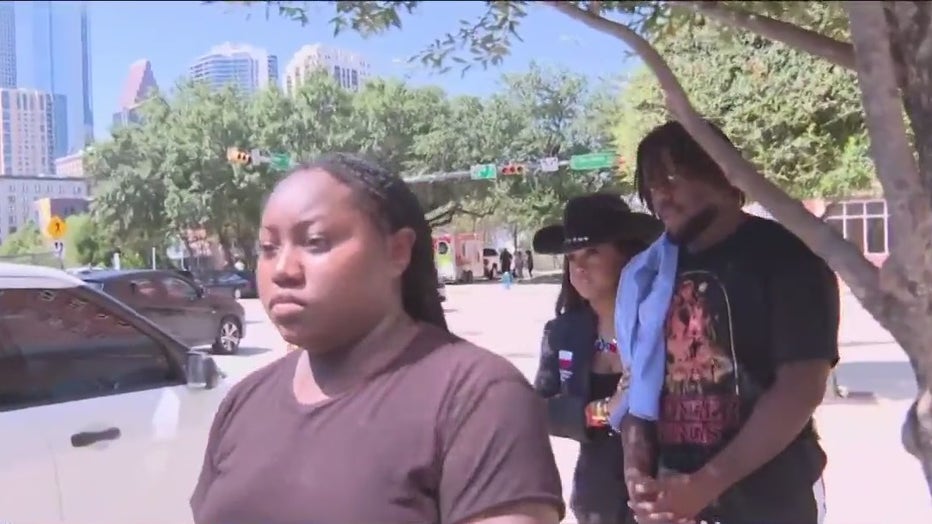 The two who turned themselves in, according to investigators, are part of a ring of people who were trying to smuggle more than a million dollars worth of drugs into prisons across the country.
Apparently, the two weren't only wanted by law enforcement.
"We have multiple layers involved in this, and this is on a cartel level," says Community Activist Quanell X.  
The man and woman wanted in Louisiana turned to Houston Community Activist Quanell X to help get them surrendered safely. 
"It's one of the most dangerous cases I've dealt with because not only did you have the street element looking for them, you also had law enforcement looking for them at the same time," Quanell explains.  
Louisiana law enforcement held a news conference in front of a table full of drugs and contraband collected there in Louisiana earlier this month.
"There's $1,184,000 worth of K2. There's $10,000 worth of Suboxone, $4,000 worth of THC wax," explains Sheriff Steven McCain with the Grant Parish Sheriff's Office.
According to investigators, Stegall and Hunter who turned themselves in here in Houston, had big plans for those illegal items.
"What started as a traffic stop on Airbase Road near the United States federal prison in Grant Parish has led to over $1,000,000 worth of drugs that law enforcement discovered that was trying to be smuggled into the federal prison in Grant Parish," adds Sheriff McCain who says his officers found a list of several prisons indicating the group was supposed to drop off drugs at facilities throughout the nation.   
"What you see that looks like a pistol in front of me is actually 185 sheets of paper that have been soaked in K2. K2 is a hallucinogenic. You tear each piece of paper into 16 strips and each strip costs $400," the sheriff explains, and he says they also found 8 cell phones, 2 drones and soda cans in the vehicle.
"These were filled with drugs. This drone has an actuator on there that the operator pushes a button on the remote control and releases the package," the sheriff explains as someone demonstrates how the drones were supposed to hover over prison yards and drop the cans of drugs. 
A scale was also confiscated. "That was used to be able to measure the poison they were trying to drop at each facility. They had a very, very specific list of what was supposed to be dropped at each location," says the sheriff. 
In addition to Stegall and Hunter, others were arrested in Louisiana.
"This is a very dangerous situation, a very dangerous case.  It involves one of the largest seizures probably in Louisiana history," adds Quanell.  
FOX 26 Houston is now on the FOX LOCAL app available through Apple TV, Amazon FireTV, Roku and Google Android TV!
According to law enforcement in Louisiana, even more arrests are likely.