18-year-old wins $48 million with her very first lottery ticket
Sault Ste. Marie, Canada - Juliette Lamour, from Sault Ste. Marie, Ontario, had never bought a lottery ticket in her life. After all - she just turned 18. But, on the advice of her grandfather, she plunked down a couple of bucks on her first ever lottery ticket - and will likely never have a win like this one again.
Juliette won $48 million, becoming the youngest person in Canadian lottery history to hit such a large jackpot. 
"While there have been other 18-year-old lottery winners across Canada in recent years, no one has won as much as Juliette," the Ontario Lottery and Gaming Corporation said in a news release issued Friday.
$747 million Powerball jackpot nears, 9th largest lottery prize in US history
According to the young adult, when she turned 18, her grandfather suggested she buy a lottery ticket - the only problem was she had no clue what she was doing.
"I just turned 18 and my grandfather suggested I buy a lottery ticket for fun," explained Juliette during a winner's celebration at OLG Headquarters in Sault Ste. Marie. "When I went to the store, I wasn't sure what to ask for because I had never bought a ticket before, so I called my dad who told me to buy a LOTTO 6/49 Quick Pick. I still can't believe I hit the GOLD BALL jackpot on my very first lottery ticket!"
She had no clue she won. She forgot about the ticket until news started to spread about the winning ticket being sold in the city. 
Flint woman wins $300,000 Michigan Lottery prize from ticket bought from her 'lucky machine'
She suddenly remembered she had a ticket and a coworker offered to check for her on his lottery app. When he scanned it, the words 'Big Winner' showed up.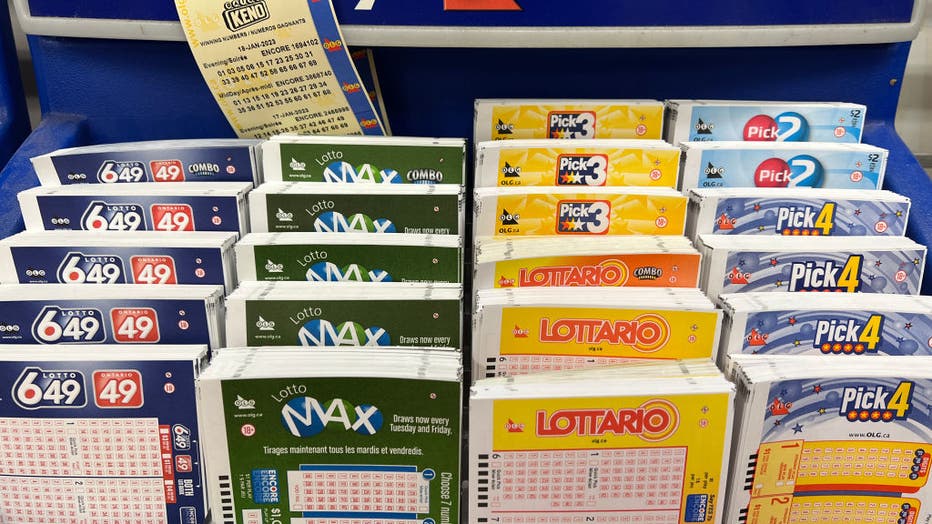 Lottery ticket selection slips in Richmond Hill, Ontario, Canada, on January 21, 2023. (Photo by Creative Touch Imaging Ltd./NurPhoto via Getty Images)
"My colleague fell to his knees in disbelief. He was yelling, in fact everyone was yelling that I won $48 million! I didn't understand what was going on at first. I couldn't process this news. We kind of made a scene in the store that day!" she said.
Then she had to try to explain it to her parents. She called them but was so overjoyed - it didn't make any sense to her mom.
"Because I was crying – happy tears – of course, my mom couldn't understand what was going on. Thankfully my dad was able to piece together that I won the lottery jackpot! I knew I couldn't focus on work and my boss told me I could go home, but my mom wanted me to stay and finish my shift! My colleagues called out 'come and get her,' and my parents eventually came to pick me up."
School bus driver wins $150,000 on $5 scratch-off and plans to pay off mortgage
Her father is a financial planner and most of the money will be put away and saved for later. But this won't change her life entirely. She said she still plans to pursue her dream of becoming a doctor - but now won't have to worry about grants or loans to pay it off.
"I wanted to go to medical school before winning the lottery. Now I can pursue this dream without worrying about grants or loans. As a member the Garden River First Nation community, I was eligible for educational assistance programs, but I no longer need those resources which means someone else in the community can benefit from that funding. I really want to come back to this area as a doctor so I can give back to my community," she said.
"Thought I was seeing things": Oakland County woman who's played million dollar scratchoff hits jackpot
The 18-year-old also said she's going to finish school for the semester and then her and her parents will pick a continent and go travel. But she said she'll always remain humble.
"While I am so excited about the opportunities that lie ahead, I feel comforted knowing I am surrounded by the grounding love of my family. They will be with me on every step of this incredible journey," Juliette said.