10 snowmobilers die in thinly frozen lakes in mild Northeast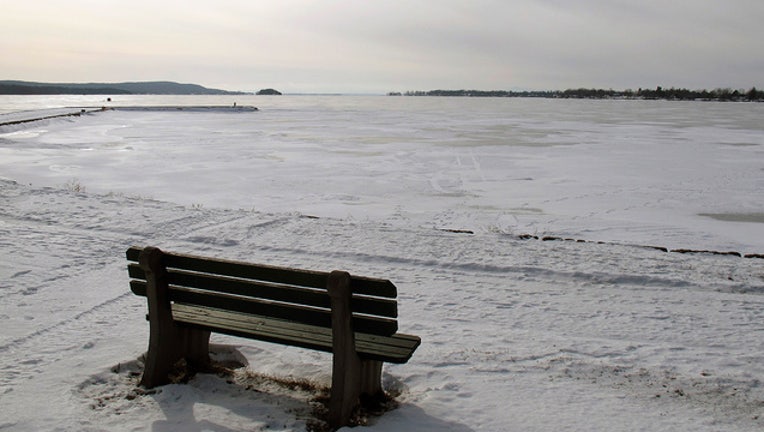 article
ALBANY, N.Y. (AP) - Ten snowmobilers have died in thinly frozen lakes across the Northeast during this mild winter.
Most of the accidents happened in New York state, where officials warned that, despite recent snowfalls, many lakes have not had enough cold days to develop ice thick enough for riding.
"There is more unsafe ice this winter," said Col. Andrew Jacob of the New York Forest Rangers. "In most places of the state we haven't had the bitter cold, below-zero weather you need to get really thick ice."
Surprisingly, most of the accidents have involved men in their 50s and 60s who have been riding snowmobiles most of their lives.
That was the case with Steve Sattler, 67, and his brother Ed, 64, who died this month when their snowmobiles plunged through the ice on Tupper Lake in the Adirondacks as they were riding back to the family's vacation home.
"It was unexpected because they were always very careful when they went out on ice," said Linda Sattler, Steve's daughter.
"We think they became disoriented because the weather was bad," she said. "It was snowing and they apparently lost track of the trail that ran along the pond. When they realized where they were, it was too late."
In New Hampshire, a 15-year-old boy drowned but his father was rescued after their snowmobiles fell through ice on Lake Winnipesaukee on Feb. 11. The same day, two men in their 60s died after their snowmobiles went through ice on a different part of the lake. A 54-year-old man was rescued by friends when his snowmobile fell through ice on the Piscataquog River Jan. 21.
In Maine, a 52-year-old Massachusetts man died when his snowmobile went through ice on Messalonskee Lake in early January.
A search was suspended after police spent four days looking for the bodies of two 40-year-old men who disappeared during a snowmobile outing on Conesus Lake in western New York on Feb. 11. All that has been found is their helmets. Meanwhile, police divers searching Lake Champlain have recovered the bodies of two Vermont men, ages 23 and 32, who rode across to the New York shore the evening of Feb. 9. Their snowmobiles were found in the water Sunday morning. The 23-year-old's body was found Wednesday, followed by the recovery of the 32-year-old's body Thursday.
Several ice fishermen also have died after falling through ice in the region, including a 62-year-old man who fell into Lake Willoughby in Vermont on Jan. 26 and two men in their 60s who drowned in a bay at the eastern end of Lake Ontario Jan. 23.
"This is just not the year to go crossing a lake," said Dominic Jacangelo, president of the New York State Snowmobile Association. "No matter how good and inviting it looks, it's likely there's going to be a lot of thin ice underneath that snow."
That thin ice is due to a statistically mild winter. In Glens Falls, New York, known as the "Gateway to the Adirondacks," the average temperature for January was 29 degrees, 11 degrees above normal, and the temperature rose above freezing on 23 days. The average temperature so far in February is 25 degrees, nearly 6 degrees above normal.
Beyond the thin ice, it already has proven to be a deadly winter for snowmobilers in New York, with 14 total deaths, most involving crashes into trees or other obstructions. That compares with four deaths last year, when there was scant snow, and 10 the year before.
Maine officials report four snowmobile deaths this year.
Ranger Jacob said snowmobile deaths by breaking through ice are uncommon. Jacangelo said he remembers just one other case - when two men in their 70s and 80s drove into a lake in Canton, near the Canadian border, in March 2013.
The snowmobile association and state Department of Environmental Conservation put out notices last week warning riders to be wary of thin ice.
None of the 10,500 miles of state-designated snowmobile trails cross lakes, Jacangelo said, adding that one of the purposes of new community-connector trails the state is creating in the Adirondacks is to give a safer alternative to riders who might otherwise travel on a lake.
"Cutting across the lake isn't worth it," said Linda Sattler. "Take the extra time and go the long way around."
___
Associated Press writer John Kekis contributed to this report.