Coast Guard suspends search for 3 fishermen missing off the coast of Georgia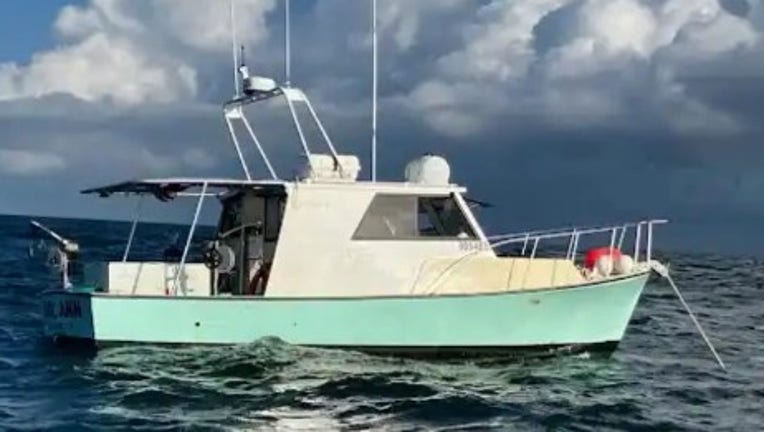 article
BRUNSWICK, Ga. - The U.S. Coast Guard announced on Thursday that it is suspending its search for the 3 commercial fisherman who disappeared off the coast of Georgia near Brunswick. 
Before suspending the search, crews searched more than 94,000 square miles, an area larger in size than the states of Georgia and South Carolina combined. 
"Despite the unwavering dedication of our crews, regrettably, we have not been able to uncover any traces of the vessel and have made the difficult decision to suspend the search for three beloved family members," said Capt. Frank DelRosso, commander, Coast Guard Sector Charleston. "We extend our heartfelt gratitude to our partner agencies and the countless volunteers who have lent their assistance in this arduous search. Undoubtedly, they, like us, share in the deep sympathy we hold for the families of the missing individuals."
Involved in the search were:
MH-60 Jayhawk helicopter crews from Air Station Elizabeth City
HC-130 Hercules aircraft crews from Air Station Elizabeth City
HC-130 Hercules aircraft crews from Air Station Clearwater
MH-65 Dolphin helicopter crews from Air Station Savannah
HC-144 Ocean Sentry aircraft crews from Air Station Miami
45-foot Response Boat-Medium crew from Station Brunswick
The crew of the Coast Guard Cutter Ibis
The crew of the Coast Guard Cutter Tarpon
Coast Guard Auxiliary aircraft crews
Georgia Department of Natural Resources
U.S. Customs and Border Protection P-3
U.S. Navy E-2C Hawkeye aircraft crew
Sector Charleston watchstanders
Seventh District watchstanders
USCG Search and Rescue Council
ORIGINAL STORY
 Three commercial fishermen are missing, 10 days after their boat headed to sea off Georgia, prompting a search by the U.S. Coast Guard over thousands of square miles of ocean.
Crews were still scouring the waters with boats and planes for the 31-foot (9.45 meter) fishing vessel Carol Ann after searching more than 32,000 square miles (82,880 square kilometers) over several days, the Coast Guard said Tuesday in a post on X, formerly Twitter.
The boat's captain, Dalton Conway, departed the port city of Brunswick on Oct. 14 along with two crew members, Caleb Wilkinson and Tyler Barlow. The Coast Guard launched its search efforts Friday after the boat's owner reported the fishermen hadn't returned on schedule.
Barlow's parents, Kim Jones and Chris Barlow, said they're still hopeful all three men will be found safe.
"We just need to keep the search going," Jones told the Savannah Morning News. "We don't want this search to end, because we do firmly believe that God has got them and they're just out there floating and drifting." 
Conway's sister, Stevie Conway, said her younger brother is an experienced boat captain who's made hundreds of trips to catch fish for local merchants and restaurants. 
"My brother goes anytime the weather is good," Stevie Conway told The Brunswick News. "This is his career. He does this for a living." 
The three men's families became concerned when they didn't return home as scheduled last Wednesday. Stevie Conway said people on another boat reported seeing the Carol Ann on the water Thursday, but otherwise no one has heard from the fishermen since they departed.
"We're really stressing at this point," she said. "They should have been back by now. We're concerned. These mothers love their babies, and we want them to come home."
Coast Guard Lt. Cmdr. Jason Erickson of Coast Guard Sector Charleston it's possible the boat became disabled and drifted into the Gulf Stream, which may have swept the vessel far from its planned fishing spot some 80 miles (130 kilometers) offshore.