What is peer-to-peer lending: What to know
Our goal here at Credible Operations, Inc., NMLS Number 1681276, referred to as "Credible" below, is to give you the tools and confidence you need to improve your finances. Although we do promote products from our partner lenders, all opinions are our own.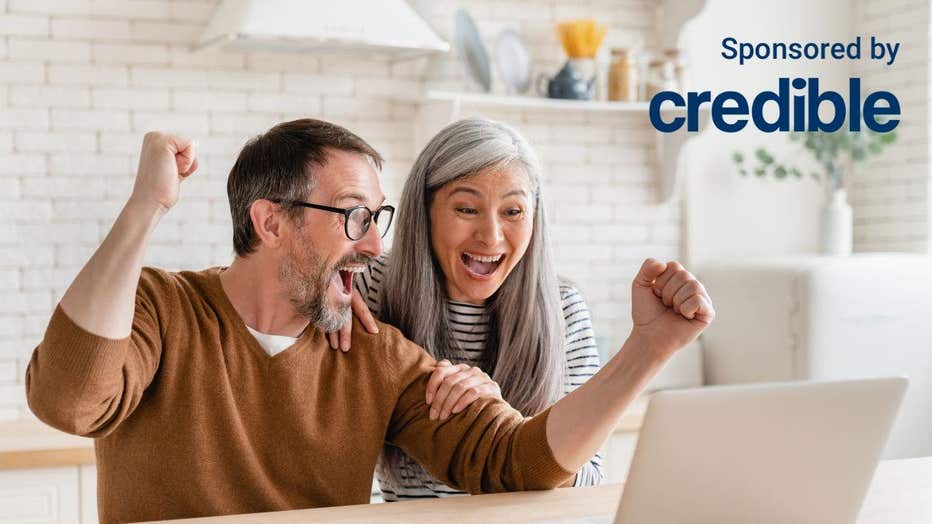 Peer-to-peer lending (P2P) involves borrowing funds from an individual investor rather than a traditional lender. Here's what to know. (Shutterstock)
Peer-to-peer lending is just like it sounds: instead of seeking money from a financial institution, you find an individual investor through an online platform. So-called P2P lending may be a helpful option if you can't qualify for a loan via a bank, credit union or other lender.
P2P loans can be more accessible, sure, but they might also include more fees and fewer repayment protections. Below is an explanation of what peer-to-peer lending is, how it works, the pros and cons, and where to find the funds you need.
Credible makes it easy to compare personal loan rates, all in one place.
What is peer-to-peer lending?
Peer-to-peer lending allows you to cut out traditional financial intermediaries, like banks or credit unions, and borrow directly from individual investors. This type of financing might be especially useful if you might not meet the qualifying criteria of more conventional lenders.
While the broad concept of P2P lending has been around for centuries, the structure that we know today began in England in the early 2000s and quickly made its way to the U.S. In the beginning, these platforms were mainly used to help subprime (or poor credit) borrowers consolidate debt at more favorable interest rates than those offered by large lending institutions. However, possible uses have expanded to include home, auto and business loans, among other options.
If you're considering a P2P loan, keep in mind that there are associated costs. Every lending platform is different, so fees will vary. In general, you can expect to pay interest, which is the amount the investor is paid in exchange for lending you the funds. You may also be charged an origination fee by the lending platform.
Where to get a peer-to-peer loan
Fortunately, there are quite a few reputable peer-to-peer lending platforms available. Here is a list of some of the most popular ones to help you get started in your search:
Upstart allows you to use their funds to grow a business, consolidate debt or refinance your car.
Prosper offers personal loans that can be used for a variety of reasons beyond the usual suspects, including military relocation and new baby expenses.
LendingClub has been offering personal loans, business loans and auto refinancing solutions since 2007.
What's the difference between peer-to-peer lending and traditional loans?
In many respects, P2P lending and personal loans are similar. Most notably, you can use a P2P or personal loan for almost any legal purpose, with few exceptions.
The application process for P2P and personal loans is also similar. Once your application is approved, you'll be given a chance to review any offers, accept the best one and receive the payout. After you receive the funds, you'll make regular payments on the schedule dictated by your loan documents.
However, it's what happens during the loan approval process that differentiates the two forms of lending. With a traditional lender, your application is reviewed by a single underwriter. On the other hand, peer-to-peer lending sites give your application a rating based on the strength of your financial profile and show it to interested investors. The investors can then decide individually whether or not they're interested in offering to fund your loan.
You can compare your prequalified rates from Credible's partner lenders in the table below in just two minutes.
Is peer-to-peer lending safe?
Aside from scammy lending sites, peer-to-peer lending is generally considered to be safe with reputable P2P platforms. However, there is always some amount of risk that comes with applying for a loan, particularly when you go outside of traditional channels.
If you think a P2P loan might be right for you, be sure to do your research. Look into reputable lending platforms, consider any offers carefully and read the loan documents before signing on the dotted line.
How to get a peer-to-peer loan
Once you've decided which platform is the right fit for you, getting approved for a peer-to-peer loan is simpler than you might expect. Here's the seven-step process:
Get prequalified. Most P2P lending sites will prequalify you for a loan without harming your credit via a hard credit inquiry. Before checking your eligibility and rates in this fashion, confirm that the platform only uses a soft credit check. It's wise to shop around, comparing platforms by their loan amounts, APRs, and fees so that you can choose the best option.
Apply for the loan. Once you've found the best platform for your situation, fill out the more formal loan application. You'll likely need to provide information about you and your income, as well as submit to that hard credit check, which will temporarily ding your credit score.
Wait for offers. Once you apply, your application will be shown to investors who will decide whether or not they'd like to fund your loan request. This potential lag time is one disadvantage of borrowing a P2P loan versus a personal loan — most top personal loan lenders offer application decisions within days, if not hours.
Review offers carefully. Be sure to read the fine print on any offers you receive. Before the loan amount, loan repayment term and APR, look out for fees, prepayment penalties and any other secondary costs of borrowing. Use a personal loan calculator and consult your budget to confirm you can realistically afford repayment on your preferred loan offer.
Sign the paperwork. Once you've selected the best option for you, you'll be asked to sign a legally binding loan agreement.
Receive funding. After everything has been signed, you should receive the loan funds within a few business days, though timing varies by P2P lender.
Start making payments. Lastly, you'll be expected to begin making regular, on-time and in-full monthly payments according to the terms of your loan agreement. Like with personal loans, it's imperative that you stay current on your repayment, or you risk harming your credit.
Pros and cons of peer-to-peer lending
Like any form of borrowing, peer-to-peer lending is not right for every borrower. Before you move forward with this type of financing, consider the pros and cons.
Pros of peer-to-peer lending
More lenient qualifying standards: Since individual lenders determine whether or not to fund your loan rather than an underwriter who is bound by corporate regulations, you may have an easier time qualifying for a P2P loan, especially if you have a lower income or credit score.
More favorable interest rates: The individual investors also set their own interest rates, which means you could be given a better rate than you might find at a bank or credit union.
Streamlined application process: P2P lending happens online, which means the application process is often quicker and easier than it might be at a brick and mortar financial institution.
Cons of peer-to-peer lending
Slower approval process: While the application might be faster with a peer-to-peer lender, getting an application decision could be slower. You might have to wait for investors to prepare loan offers for your situation.
Additional fees: Every P2P lending platform is different, but you may be subject to additional fees that you wouldn't find with a traditional personal loan lender.
Lack of protections: If you run into trouble repaying your loan, you may not be eligible for the same protections that you'd receive if you had borrowed from a typical lender.
Tip: Before borrowing a peer-to-peer loan, read your loan documents carefully to understand the repayment protections (or lack thereof) as well as fees. If you deem a P2P loan to be too risky or costly, you might decide that an alternative financing option is a better fit for your situation.