Pennsylvania medical workers strike gold with $1M Mega Millions win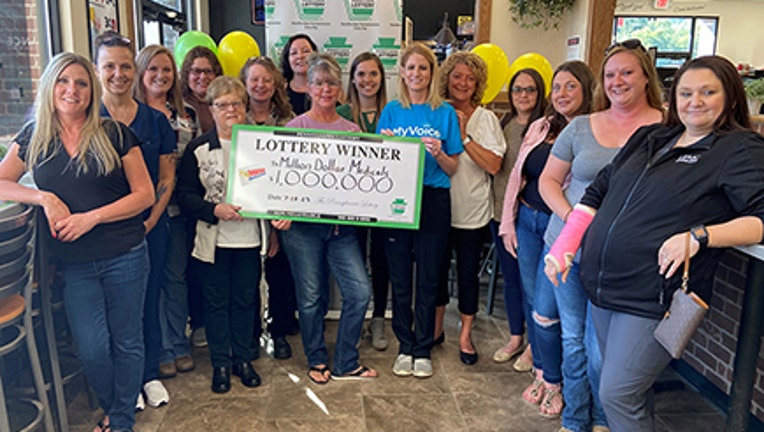 article
SMETHPORT, Penn. - A group of medical workers are thousands of dollars richer after winning $1 million from the August Mega Millions drawing. 
Pennsylvania Lottery officials presented a check to the 15 employees of UPMC, who nicknamed themselves "Million Dollar Medicals."
The check was presented at Nittany MinitMart in Smethport where the ticket was sold. The story received a $5,000 for selling the winning ticket. 
RELATED: Powerball jackpot surges to $725M after 27 consecutive drawings with no winner
A spokesperson for the group said five of the members had been playing the lottery together for 20 years and the group grew from there. 
"This is the first time we won!" said spokesperson Jackie Burdick in a news release. "I'm usually the one who collects the money from my co-workers to play the Lottery. We made a last-minute decision to play that day."
"I was at a doctor's appointment in Pittsburgh, when I saw on the news that someone won $1 million. Then a family member called me and said, 'Someone in Smethport won! You better check your ticket.' I was like, 'I better check.'"
Burdick said when she scanned the ticket with the PA Lottery app, it instructed her to "see a retailer."
"When I scanned it at a retailer it showed, 'Congratulations you won $1 million!' I thought, 'Oh my gosh this can't be real. I have to call these girls!'" she continued. 
"I was in disbelief!" Burdick added. "I was jumping up and down, screaming, yelling and crying! I thought, 'I can't wait to tell everyone.'"

"We always say, it only takes one ticket to win, and their last-minute decision certainly paid off," Pennsylvania Lottery Executive Director Drew Svitko said. "We appreciate all medical workers and congratulate this group for winning this prize. Pool play is a terrific way to play responsibly and within your means."
According to the Mega Millions website someone from Florida purchased a ticket with all six matching numbers – good for the top prize of up to $1.58 billion for the August 8 drawing. 
This story was reported from Los Angeles.