Jim Jones talks new music, Dipset and working with Mayor Eric Adams in Harlem
NEW YORK - He stays fly, no lie. Award-winning rapper, record executive, Jim Jones brought his diamond encrusted '5,' and Harlem swag to Good Day New York on Friday.
Jones is one of the original members and founder of the hip hop collective, The Diplomats, also known as Dipset, who celebrated 20 years this March.
The Harlem native talked about upcoming projects, the influence he says both Jay-Z and Drake have had on hip hop, and even gave his famous weather forecast, 'The Drip Report'.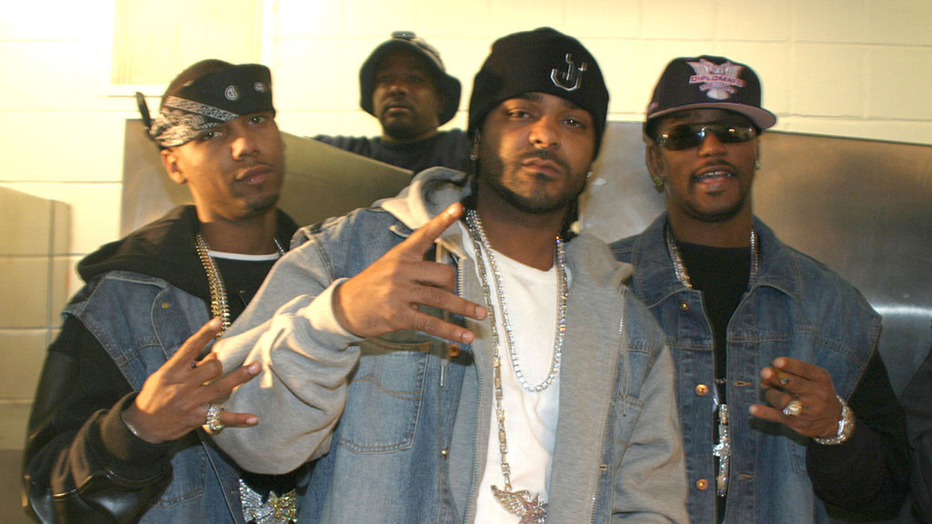 Juelz Santana, Jim Jones and Cam'ron on the set of "Crunk" on November 13, 2004. Photo by Shareif Ziyadat/FilmMagic)
New Music
Jim Jones said the release of his new album, Back in My Prime, produced by Hitmaka, is one for the ladies.
Jones said the album is different from his other projects, in that he was inspired by his large female fan base in most of the tracks featured.
Throughout the album, Jones references his long-term partner of nearly two decades, Chrissy Lampkin. 
The Mayor's Cup
The 'Harlem hero' spoke about being appointed by NYC Mayor, Eric Adams, for his inaugural Mayor's Cup of Dance this summer. 
Jones helps out with many projects within the Harlem community, including his work with Go Hard Dance Studio, where he helps to promote the dance studio to get children involved.
Capo explained the importance of having a safe space for children to express themselves.
Dance is an integral part of Harlem, and the city of New York, and so, the collaboration was a no-brainer for him.
Jones said that social change is very important to him especially in a place like Harlem where he found his love for music and hip hop especially. 
Jones also pointed out the lack of opportunity and safe spaces within the Harlem community especially for young children.
The Drip Report
Jones gave his weather predictions for Friday on the set of Good Day.
The Drip Report, started on Instagram, when the rapper began posting his own weather forecasts in a comedic and anecdotal way that only Jim Jones can. 
Jones made the transition from social media weatherman to REVOLT TV's 'Weavahman Jim' with the official launch of the Drip Report: a weekly breakdown of pop culture, fashion, and the weather.
Jones went viral in 2022 where he first dropped The Drip Report on FOX 5 NY.
In summary, weatherman Jim said the weather for Friday is, bipolar in the northeast and Jack Frost in the northwest, but that overall "it's a good day for the drip."