Legendary college basketball coach Rick Pitino on the Iona Gaels' run to the 2023 NCAA Tournament
NEW ROCHELLE, Conn. - On Saturday, the Iona Gaels of New Rochelle earned an automatic bid to the 2023 NCAA Division-I Men's Basketball Tournament after topping Marist 76-55 to capture the MAAC Conference Tournament title.
Iona (27-7) earned the No. 13 seed and will face the No. 4 UConn Huskies (25-8) of the Big East next Friday in Albany, NY at 4:30 in the first round of the tourney.
Our Jennifer Williams caught up with legendary coach Rick Pitino, who has now led the Gaels to the big dance twice (2021, 2023) in his three years so far at the helm. They talked about how his squad can pull off the upset to become just the second Iona team ever to advance to the second round, as well as his future with the program.
Williams:  What makes this one so special?
Pitino: They're all special. I've been coaching a long time and I'm probably more excited now than I've ever been because it's now and we're playing a great team in UConn. A team that was number one in the country early in the year – at the time, people were predicting them to get to a Final Four; still people are predicting them to get to a Final Four. So this is a David v. Goliath matchup and we have to play great basketball to beat them because they're very physical, very athletic, and they're big [men] inside. We're gonna have to play our bench in this game. Silas Sunday is gonna have to play a lot of minutes."
Williams: The game is going to be in Albany. How do you expect this fan base to travel to support the Gaels? 
Pitino: "We have quality, not necessarily quantity. UConn will have quantity. They'll bring three times more people than us just because it's a larger fan base. But we have quality. Our fans show up, they support us. It'll be a little bit like a road game for us, but we'll be up for it. We went to New Mexico and played in front of 15,000 people."
Williams: You said that some of your players were telling you they weren't sure what to do during the announcement. Again, what makes coaching a small program so unique and special?
Pitino: "Well, you watch them grow and Iona has had great success getting to the tournament. It hasn't had great success advancing and certainly, that's something that we look forward to taking on that challenge because we have such a good back court so anything is possible."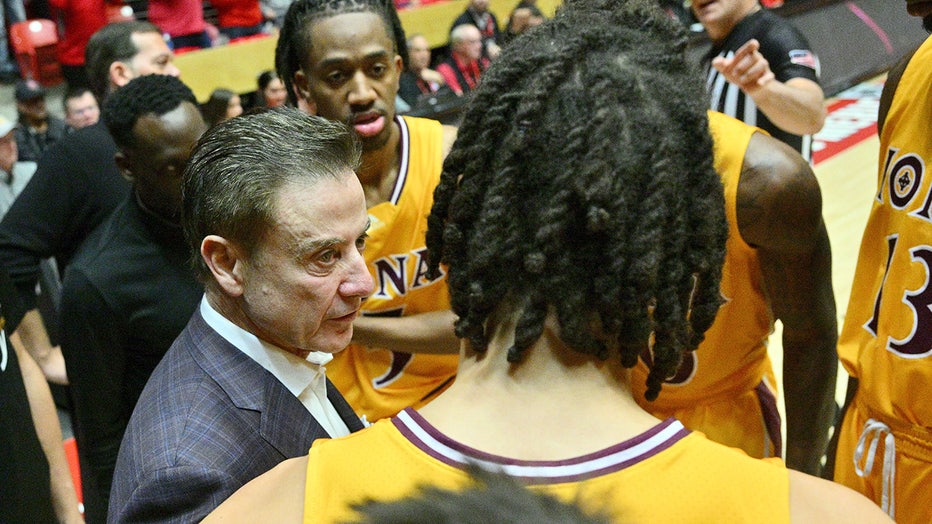 File: Head coach Rick Pitino of the Iona Gaels talks to his team before their game against the New Mexico Lobos at The Pit on December 18, 2022 in Albuquerque, New Mexico. (Photo by Sam Wasson/Getty Images)
Williams: That's why we love March Madness. You coached at big programs and now right here at Iona. What makes some of these smaller programs so dangerous come tournament time?
Pitino: "Well, sometimes the lower seed gets more nervous. I'll give you an example. We were the number one of the number one of number one seeds at Kentucky. We were the largest favorite at that time in the history of NCAA – I think it was like 35 points against San Jose State. We either were up one or trailed one and halftime and my guys were uptight because there was so much pressure on them. We actually wound up beating the spread in the second half, but my guys were tight. And sometimes the lowest seed gets really tight because if it's close, they worry, they could get upset. The other team's loose, and we'll be loose.  We just gotta go in there and just play hard, make sure we take care of the backboard."
Williams: Top seed in the MAAC, 14th straight win Saturday night, but obviously that's all wiped come tournament time. What has it been like taking a program like this and making it a dominant force in the conference where opposing teams are circling the matchup on the calendar?
Pitino: "Well, I think we're at 35-7 in two years. That's pretty darn special. So what you wanna do now is you want to keep on playing the non-conference schedule. We've been to Hawaii, Las Vegas. We played St. Louis at home. We played St. Bonaventure at the Barclays Center. We played Vermont and Princeton, who are dancing. We went out and played Santa Clara in Las Vegas. So we're playing a national schedule. Our guys are getting great experience from that. The university is supporting us with everything we're trying to do. So we're excited about it."
Williams: What will you tell this current team in terms of taking in the moment or settling those nerves when you get to the big stage?
Pitino: "If you just focus on the fundamentals of offense and defense with the opponent you're playing and don't get distracted – one of the key things about the NCAA tournament: families, fans distract the players. We don't want to necessarily keep the family away because that's family, they want to share those moments. But you've gotta make sure that you're isolated and you pay attention to scouting. Scouting and preparation are keys to winning in the NCAA tournament."
Williams: Your focus is on the here and now, but obviously your name has been linked to certain local programs – St. John's, for example. What does your future look like?
Pitino: "Well, I think it's overplayed a little bit because Father Shanley is a Providence College Friar. I was a Friar. I think it's overplayed a little bit right now. The internet doesn't hire coaches. Certainly, if I have a decision to make, which I don't now, it'll be made at the end of the year. And certainly, I have not made up my mind of what I'm going to do with the future because I owe it to the players, to our fan base, to Iona to give everything I have to Iona. If there's a change in the future for me, then you make the change like any other coach, like 1,500 players going into the portal. But I have not made up my mind to go anywhere, because I've loved the three years I've been here. It's been very rewarding. So a lot of people think it's over. It's not over. It's just something that I'll, I'll have to think about if or offered and we'll see what happens.
Williams: The MAAC Championship was played in Atlantic City. How'd you celebrate last night and how are you feeling today?
Pitino: "Well, to be honest, I'm hungover [laughs], but it's a good hangover [laughs]."