Woman, dog killed in Brooklyn bodega shooting
NEW YORK - A gunman opened fire into a Brooklyn bodega, killing a woman and her dog.
Jennifer Ynoa, 36, was with her pit bull at the counter of a store on DeKalb Avenue in the Clinton Hill section at about 9:45 p.m. on Sunday when a man fired several shots into the store. 
The NYPD believes the gunman was aiming at another man who was inside the Salim Smoke Shop and & Lottery Corp. and that Ynoa was caught in the middle.
Get breaking news alerts in the free FOX5NY News app!  |  Sign up for FOX 5 email newsletters
Ynoa, who was hit in the torso, left a trail of blood as she exited the store. EMS rushed Ynoa to Brooklyn Hospital but it was too late to save her life.
The dog died on the sidewalk. Police officers covered the dog's body with a plastic trash bag as they investigated the shooting.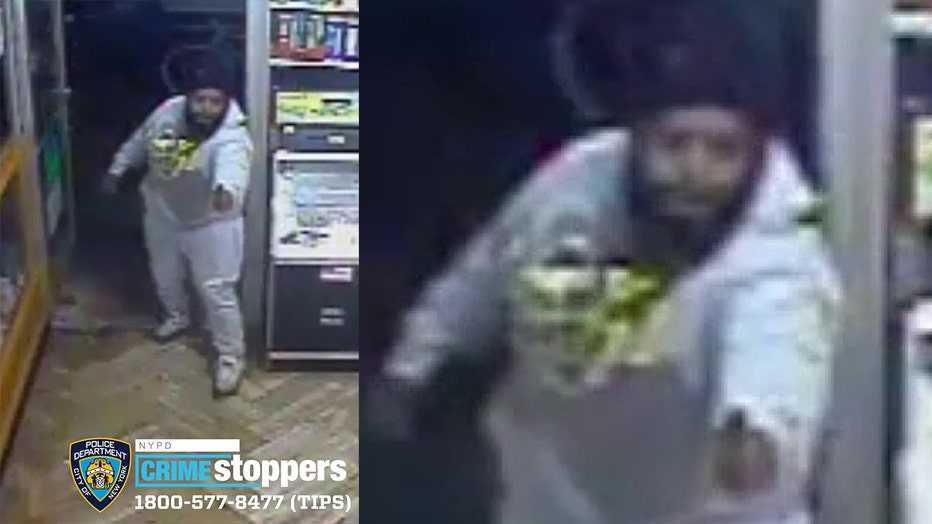 The NYPD said this man opened fire inside a bodega in Brooklyn, killing a woman and her dog, on Jan. 2, 2022. (Via NYPD)
The NYPD has released images of the gunman.  If you have any information, you can contact NYPD's Crime Stoppers at 800-577-8477 (English), 888-577-4782 (Español), CrimesStoppers.NYPDonline.org, or Twitter @NYPDTips.