'Tennis brings us all together': Police, youth connect through sport
Every Friday night from 6-7 p.m., at the Cary Leeds Tennis and Learning Center in the Bronx, you can find kids — alongside police officers — learning the game of tennis together. 
"Tennis brings us all together," Matthew Ackah, a senior at AECI Charter School, told FOX 5 New York.  
"The officers do participate with us all the time — they always help us try to get better. I usually am a basketball player, I play track, football. I just decided to come here to play tennis to learn a new sport and it's one of the best decisions I've ever made in my life," Ackah added.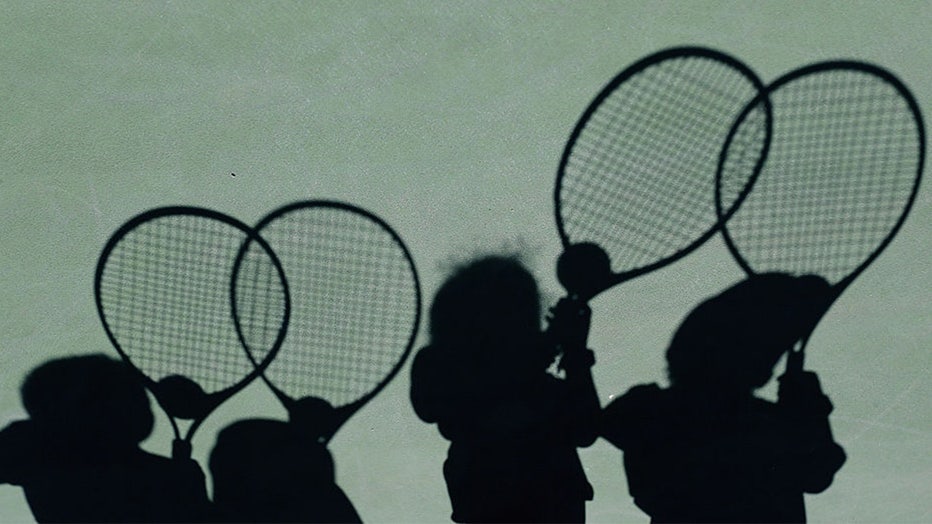 FILE - Silhouette of children holding tennis rackets and tennis balls. (Michael Reaves/Getty Images for USTA)
The 42nd precinct Youth Community Tennis Program was created a year ago by Officers Dili Jefferson and Jorge Bencosme — two youth coordination officers who wanted to provide a safe space for at-risk youths and build a connection with local law enforcement 
"We wanted them to have to try new sports besides basketball," Jefferson said. "And also building bridging the gap between officers and them—so they can see that we're just like them, we play sports, just like them. And this is in their own backyard—in the South Bronx. This is something that's offered to them they should take advantage of."  
"All they have to do it get up, go to the park and we're here for you guys," Benscome added. "So that right there rewards me and my partner as well." 
"My favorite thing to do is just spend time with them," said Beleric Bacheco, a sophomore at John Jay College, who came through the Explorers Program. "They are like a mother and father figure to us." 
The program is just one of many made possible through New York Junior Tennis and Learning—it's open to kids ages 12-17 and every precinct. The racquets, court time and instruction are provided free by the Cary Leeds Center—it's all in an effort to make the sport more accessible for everyone. 
"It's extremely important,"  says Scott Hausthor, the Vice President of operations at the Cary Leeds Tennis and Learning Center. "Being here in the Bronx, just understanding what tennis and education is, what we do, and then having the center in their backyard for them to take part in activities like this—I think it's extremely important to be able to provide those resources to the kids." 
"I've been in this program for about a year now. I had the most fun—greatest time of my life here," says Officer Jefferson. "And I remember when I first came here, I was a little bit nervous, but one of my co-officers, YCO Officer Jefferson, she told me to just take one shot here, give her one shot to bring me over here. And ever since that one time, I came over here and I went beyond my comfort zone. I loved it here." 
Officer Jefferson says for those who hesitate to check out the program—she keeps her message simple. 
"The most rewarding part is when they come back," says Jefferson. "Some of the ones that we try to recruit are not fond of us because of the uniform. And we tell them, 'Give me one try. Just come one day. That's all I tell them... and if you don't like the program, I'll find something else for you.' But they keep coming back. Every single Friday. They come and they ask for more days. They want more time, and they look forward to the pizza at the end." 
And it's all thanks to officers Jefferson and Bencosme who provide the pizza. Tennis and carbs. Talk about the perfect Friday night.