Pro-Israel and pro-Palestine supporters clash in Times Square
NEW YORK - Bedlam broke out in Times Square as pro-Israeli demonstrators squared off with pro-Palestinian protesters hours after a cease-fire was declared between Israel and Hamas.  There were 26 arrests in connection with the disorder.
In one shocking incident Thursday evening, a video showed a group of 5-6 men violently beat another man in the middle of the street. The group repeatedly kicked and pepper-sprayed him and hit him with crutches as he laid on the ground. The NYPD Hate Crimes Unit said it was investigating the assault of the Jewish man.
Joseph Borgen, 29, was taken to Bellevue Hospital in stable condition. He was released Friday morning.
The NYPD says two 23-year-olds are under arrest and they are looking for more suspects.
Get breaking news alerts in the free FOX5NY News app!
In another video shared on Instagram, fireworks were seen exploding on 47th St. near 6th Ave. The post by Jewish Breaking News claimed the fireworks were thrown at Jews who had gathered in the Diamond District.
The NYPD confirmed that two fireworks were thrown from a car. One person, a 55-year-old suffered minor burns. They are searching for a suspect described as a man wearing gray pants and a red and black striped shirt.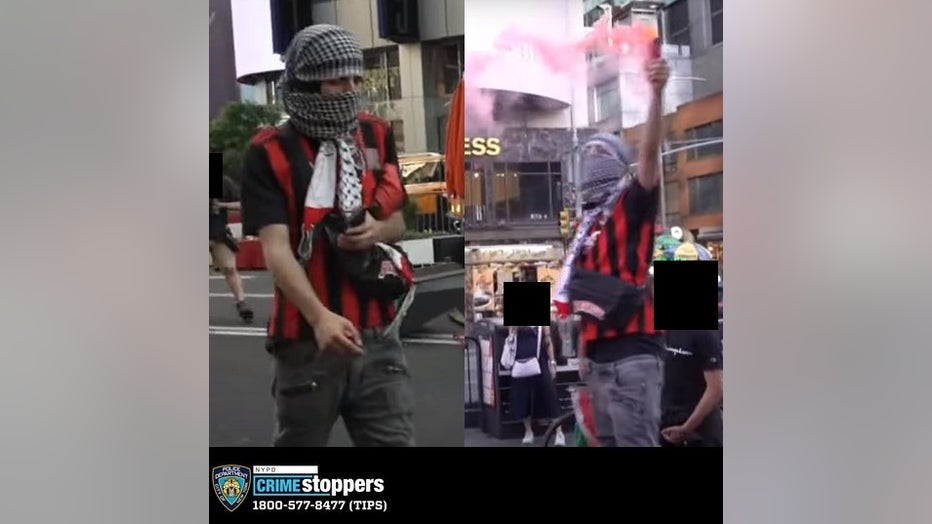 The NYPD has released a photo of a suspect wanted for throwing a firework at protesters in Times Square on Thursday. 
The NYPD arrested 26 people in the melee. Charges included obstructing governmental administration, resisting arrest, unlawful assembly, disorderly conduct and criminal possession of a weapon
Hours earlier, Israeli Prime Minister Benjamin Netanyahu's office announced a cease-fire to halt an 11-day military operation against Hamas militants in the Gaza Strip. 
The fighting, the worst Israeli-Palestinian violence since 2014, killed at least 219 Palestinians and 12 people in Israel.