NYPD officers shoot man armed with knife while responding to mental health call
NEW YORK - NYPD officers shot and critically injured a man who reportedly advanced toward them with a knife Sunday, while he was having a mental health crisis, police said. 
According to NYPD Chief of Patrol John Chell, police responded around 10 a.m. to reports of an emotionally disturbed person with a knife at 2685 Grand Concourse in the Bronx.
Santos Dela Cruz, the victim's father, made that phone call pleading for help for his son.
Cruz told 911 operators that his 42-year-old son was having a "medical episode" and thought he was being followed and persecuted. He also told his father that if any cops showed up he would kill them, according to police.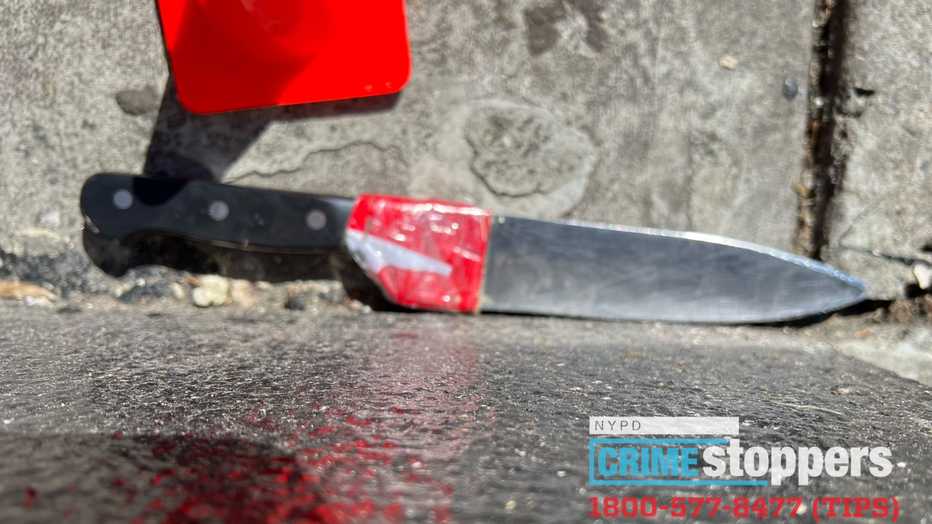 NYPD release picture of the knife that the individual had in his possession.
When police officers arrived, the man and his father met them outside. Police said the man became agitated and advanced toward them with a knife. 
"And [the man] goes on to say if any cops show up here today I will kill them," Chell said.  
"The officers gave him numerous instructions to drop the knife at which time he does not comply," he continued. 
Officers say before they shot him, he produced a large kitchen knife and began advancing toward officers with it. 
"He was not holding a gun, holding a knife, right, so they should've use something else to bring him down to get him arrested," said one neighbor. 
That's a sentiment Cruz expressed to FOX5 in Spanish saying "I feel that you cannot call the police to come and help you because all they do is come and shoot and kill. They could've shot him in the leg. I know he had a knife in his hand, but I know they could've shot him with a stun gun." 
"I think that's really tragic that it happened that it took place," shared Alicia Rodriguez-Allie, who lives closely to the incident. 
The man was taken to a nearby hospital and is believed to be in critical condition, police said. 
No further details on how many times the man was shot or how many officers fired their guns, were given. 
Chief Chell said it all happened in 28 seconds. The body camera footage is still under review.