NYC women travel to Seneca Falls for to commemorate Women's Rights Movement
A group of determined New York City women boarded a bus heading to Seneca Falls on Thursday to pay homage to the pioneers of the women's rights movement. 
This weekend marks the 175th anniversary of the groundbreaking first women's rights convention at the Wesleyan Chapel in Seneca Falls. The convention, held in July 1848, was a momentous occasion where suffragettes like Elizabeth Cady Stanton sparked a quiet revolution, gathering to deliberate on securing women's right to vote. 
Their relentless efforts eventually culminated in the passing of the 19th Amendment in 1920 – a milestone Stanton, unfortunately, did not live to witness, as she passed away in 1902.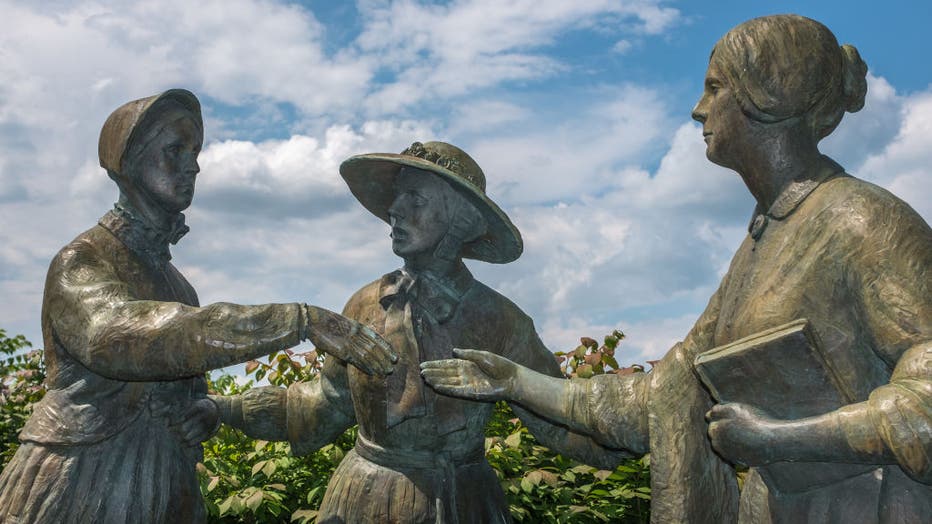 A statue at Seneca Falls depicting the first meeting of feminist activists Susan B. Anthony and Elizabeth Cady Stanton after they attended an anti slavery lecture by William Lloyd Garrison on May 12, 1851 - left to right - Susan B. Anthony, Amelia Bl
"I'm really excited to be in touch with that history and I think recognizing our history within the women's movement is so important as we move forward in it," said Bella Ramirez, social media manager for the Sign4ERA campaign, which aims to garner support for the ratification of the Equal Rights Amendment (ERA). 
The trip to Seneca Falls holds particular significance as July 21st also marks the 100-year anniversary of the introduction of the Equal Rights Amendment by Alice Paul. The ERA seeks to grant women equal rights under the constitution. 
However, a century later, the ERA is still yet to be ratified by all states. 
"Right now, we're not protected from discrimination. So it's legal to discriminate," said former New York Congresswoman Carolyn Maloney. "My entire life I've worked on and passed bills for equal pay for equal work, but none of them are enforceable. If you had equal rights in the constitution, you could enforce equal pay for equal work. It's that simple. We've made some strides, but it's still not enough. It's legal to discriminate against women that's unfair. It's wrong and should be changed. The equal rights amendment would change it."
The women on this journey assert that waiting a hundred years for women to enjoy the same constitutional rights as men is far too long. In a promising sign of progress, President Biden has pledged to sign the ERA if it reaches his desk. However, advocates recognize that achieving this milestone will require unwavering political will from Congress.