NYC migrant crisis: City struggling to keep up with housing
On Saturday, three buses from Texas arrived at the Port Authority as the city continues to struggle to keep up with housing and shelter availabilities. 
A total of 142 asylum seekers were on board, mainly families with children. 
"We came from Texas, trip was good. We have family here and New York and will be staying with them," one Venezuelan family told FOX 5.
The Port Authority is no longer considered a welcome center since Friday, when the Roosevelt Hotel in Midtown opened as the city's latest intake center and shelter.
RELATED: NYC migrant crisis: Roosevelt Hotel reopens as shelter for asylum seekers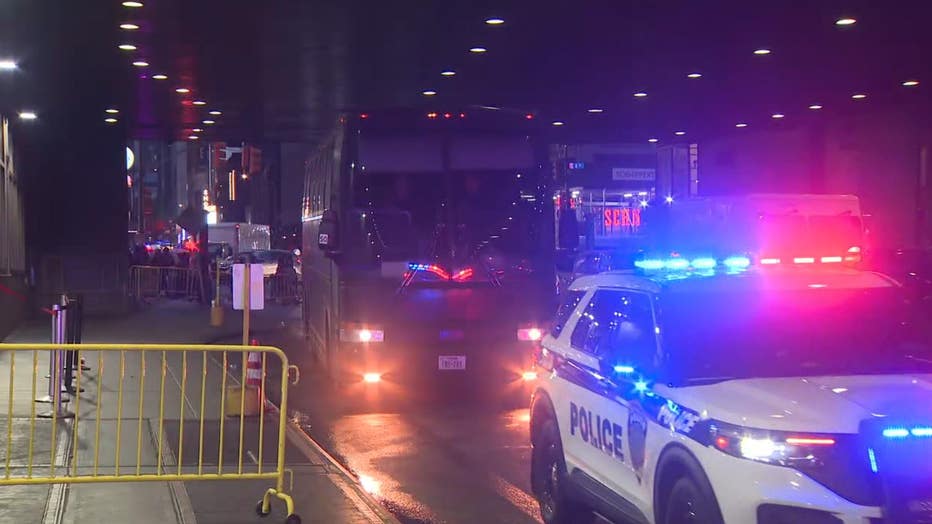 Once off the buses from Texas, the migrants got on MTA buses and transported to the Roosevelt Hotel. 
"We've sent a lot of families there, the good thing is they are getting put up," said Power Malu, executive director of Artists, Athletes, Activists.
However, it's the second day since the humanitarian relief center opened and advocates say things aren't running as smoothly. 
"The individuals that come with issues, with concerns, they are not being heard because the services are not being because the services are not fully 100% implemented at this point," he says.
His organization has been at the Port Authority all along, but since operations closed down there they have not been welcomed to the Roosevelt Hotel. 
"It's ultimately the city's decision. For us, it's confusing in a way because they know how much work they put into this," he says. "Families end up in the street because you have the wrong personnel at intake, or receiving them, or not allowing them to come through to get to the right person that's going to ask the right questions."
The Roosevelt Hotel is being used as a family shelter. FOX 5 knows 175 rooms have been blocked off and more rooms are expected to come online in the coming days. 
The city would not comment if all 175 rooms are fully occupied at this time. 
As of May 17, 42,200 asylum seekers are in the city's care. The city has opened more than 150 shelters but is still struggling to find the migrants' housing. 
Meanwhile, as more migrants continue to arrive, over at the MET, an asylum declaration workshop was held Saturday morning to help families with the documents needed to be granted asylum.