Iconic NYC Jewish deli vandalized with swastika after voicing support for Israel
UPPER EAST SIDE - An iconic New York City Jewish deli that has publicized its support for Israel following the recent attacks from Hamas was vandalized with a swastika.
The vandal targeted the Upper East Side location of 2nd Ave Deli, located on the corner of 1st Avenue and 75th Street.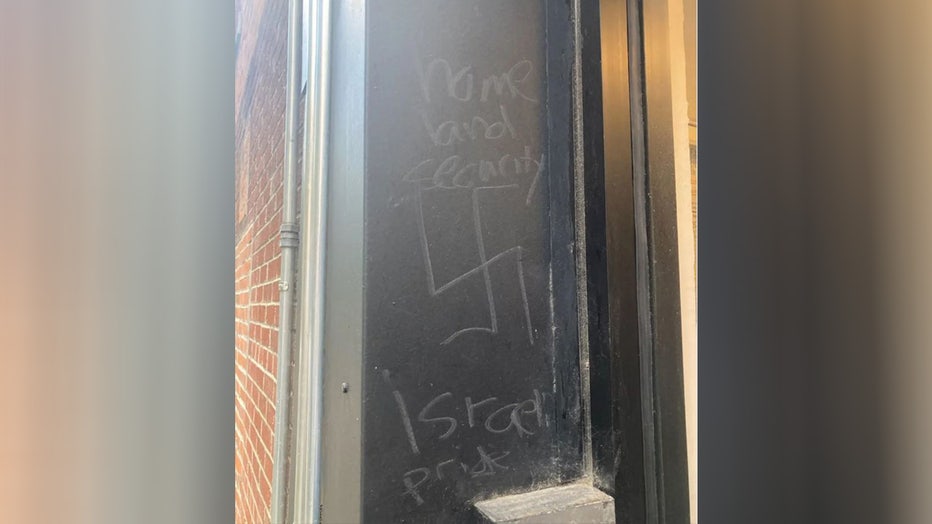 Over the past week, the eatery has posted several messages on its Instagram page in support of Israel.
"We Stand with Israel. We stand against the clear evil that has once again shown itself today," one post read.
The war between Israel and Hamas is raising fears about rising hostility across the United States. Experts say crimes against U.S. Jewish communities tend to escalate when conflict erupts in the Middle East, and anti-Muslim crimes also can spike.
While it's too soon to say with certainty whether anti-Muslim and anti-Jewish crimes have increased during the war, hate crimes overall increased in the U.S. last year. In its annual report released Monday, the FBI estimated that hate crimes increased by 7% to 11,634 cases in 2022 compared to the previous year. With 1,124 incidents, anti-Jewish attacks were the second most reported hate crime, after anti-Black cases. There were 158 reported incidents of anti-Muslim attacks, and 92 reports of anti-Arab cases, according to the report.
2nd Ave Deli, which also runs a location in Midtown and bar on its second floor, traces its roots back to 1954, serving matzo ball soup, pastrami sandwiches and other traditional Jewish fare to New Yorkers for decades, according to its website.
An investigation into the graffiti is ongoing, and no arrests have been made.
The Associated Press contributed to this report.

Editor's note: A previous version of this story incorrectly stated that 2nd Ave Deli was also mailed an anonymous letter.