New York City focusing on these 8 rodent-filled 'rat mitigation zones'
NEW YORK CITY - They're quick, dirty, disease-prone and above all, a nuisance.
Yet rats continue to make their presence well-known on New York City streets – in some neighborhoods more than others.
The city plans to zero in on eight areas so full of vermin that the Department of Health has designated them "rat-mitigation zones."
Here's a look at the zones:
Manhattan
Harlem
Chinatown
East Village
Lower East Side
Bronx
Brooklyn
Prospect Heights
Bed-Stuy
Bushwick
That's where neighbors were able to attest – rodents are running rampant.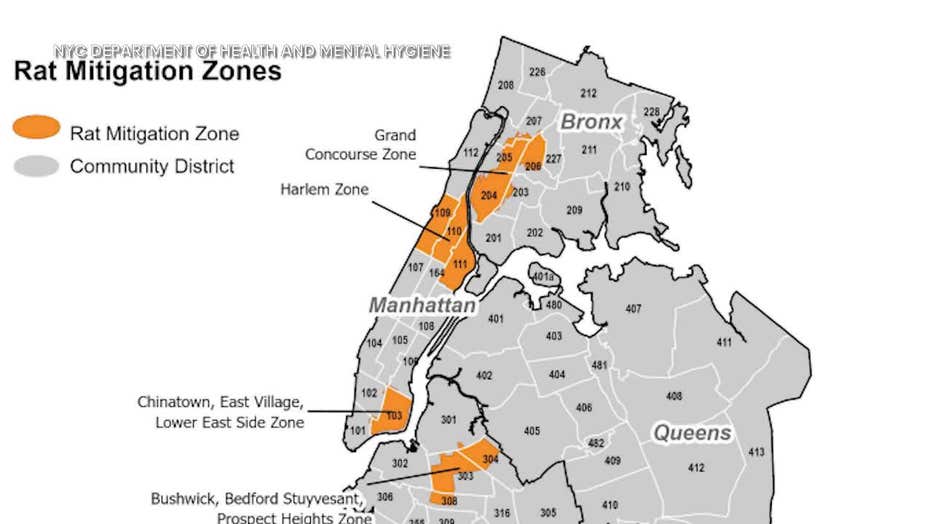 The eight "rat-mitigation zones." (NYC Department of Health and Mental Hygiene)
The eight neighborhoods were deemed "high priority" thanks to a slew of 311 calls and complaints about infestations.
Those areas will now get more attention from the city, such as increased enforcement on properties that fail inspections and "rat academy training" – free workshops offered by the Department of Health on rat management.
According to city officials, eliminating the food source is the best answer.
"You know what I learned? There's someone who hates rats as much as I do," Mayor Eric Adams said. "I gotta meet this guy."
In a public service announcement launched last month, Mayor Adams toured rat boroughs with the health department's pest control director, Rick Simeone, and encouraged more New Yorkers to slap lids on their trash bins.
"If they could put their garbage out closer to the time sanitation picks up, having lids on their garbage when it goes out," Adams said.
The Department of Sanitation also sent out a notice, warning residents and businesses that setout times for waste have changed as of April 1: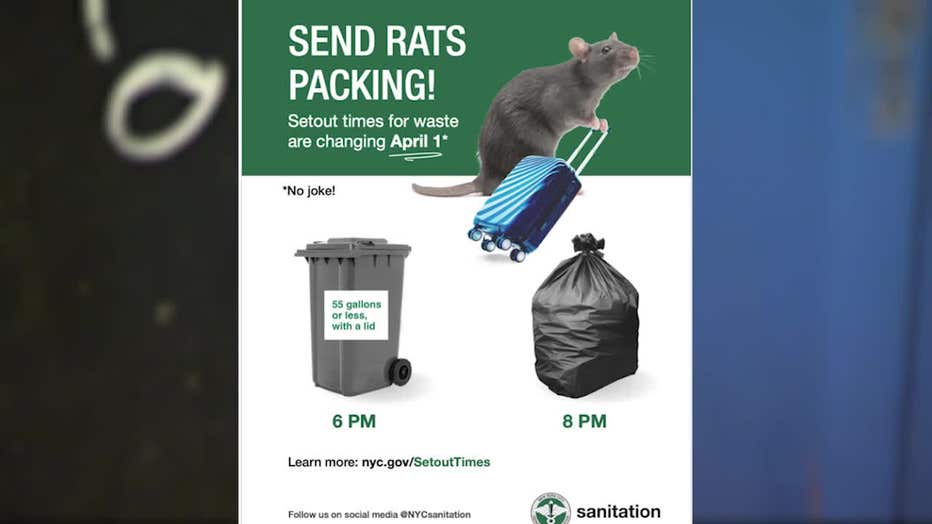 Beginning April 1, the time to put out bins is being pushed back to 6 p.m., and for trash bags – 8 p.m.
If you're using a secure container, 55 gallons or fewer, with a lid, you can put it out at 6 p.m.
If you're tossing a bag at the curb, you'll have to wait until 8 p.m.