Miami Beach sets curfew to manage spring break crowds after 2 deadly shootings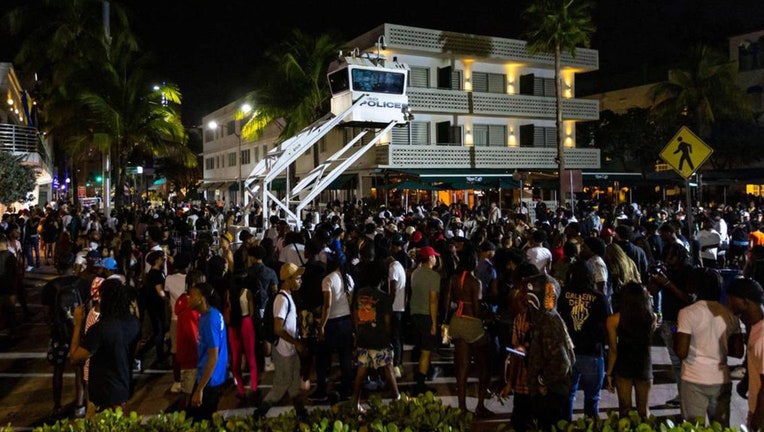 article
MIAMI BEACH, Fla. - After two deadly shootings, Miami Beach officials implemented a curfew to manage crowds during spring break. 
The curfew started at 11:59 p.m. Sunday through 6 a.m. Monday, according to a release from the City of Miami Beach. City officials plan to impose another curfew from Thursday until Monday, March 27. The curfew mainly affects South Beach, a popular party location for spring breakers. Officials are meeting Monday to talk about additional restrictions. 
The curfew requires people to leave businesses before midnight, but hotels can operate later only to service their guests. According to the city release, restaurants can stay open only for delivery, and it won't apply to people heading to and from work, and essential services, including fire, police, and hospital service.
Two people died in separate shootings along South Beach on Friday night and early Sunday morning.  
On Friday night, two males were shot. One died, and another was seriously injured. Police detained one person at the scene and recovered four guns, the Associated Press reported. 
Less than 48 hours later, another shooting occurred at 3:30 a.m. Sunday on Ocean Beach in South Beach. A male was shot and died later at a hospital, and officers chased down a suspect on foot, police said on Twitter. 
Last year, the city imposed a midnight curfew following two shootings, also on Ocean Drive. The year before that, about 1,000 arrests were made, with dozens of guns recovered during a rowdy spring break that led Miami Beach officials to take steps to calm the situation, the Associated Press noted.
The Associated Press contributed to this report.  This story was reported from Washington, D.C.