Met Gala 2023 photos: Celebs turn out for museum's biggest annual event
NEW YORK, NEW YORK - MAY 01: Cardi B attends The 2023 Met Gala Celebrating "Karl Lagerfeld: A Line Of Beauty" at The Metropolitan Museum of Art on May 01, 2023 in New York City. (Photo by Matt Winkelmeyer/MG23/Getty Images for The Met Museum/Vogue)
The Met Gala's starry carpet was on fire with vintage haute couture Monday as Dua Lipa walked in a Chanel ballgown from the fashion house's archive and Nicole Kidman chose a look Karl Lagerfeld himself made for her 20 years ago.
But elegant wasn't entirely the hallmark of the evening. Jared Leto dressed as Choupette, the beloved fluffy cat of Lagerfeld, the evening's honoree. Lil Nas X went full cat covered in crystals by Pat McGrath and Dior Men.
And there were some bombshells: Serena Williams wore a flapper Gucci look when she announced she's pregnant with her second child.
Lipa, a gala co-chair, wore a Tiffany & Co. diamond around her neck that she called "very special." The singer's cream-colored dress, by Chanel from 1992, was also "very, very special" as it has been on her mood boards, she said.
RELATED: Met Gala theme: Why is Karl Lagerfeld controversial?
Claudia Schiffer wore the gown on the runway for its debut, although hers had a matching hat. Lipa's necklace in platinum included a center diamond of more than 200 carats.
Nicole Kidman said it was Lagerfeld who ignited her fashion spark. She wore a pale pink gown created by Lagerfeld for a Chanel No. 5 commercial she starred in. It's adorned with 3,000 silver crystals for the ad directed by Baz Luhrmann.
"I'm very grateful to wear it," she told The Associated Press. "He was so much a part of my life, as were his whole team. He was the one really sort of shepherded me … in terms of my love of fashion."
Kidman topped off her look with Harry Winston diamonds.
Kim Kardashian, meanwhile, went with loops and loops of pearls all over her Schiaparelli look. And Nikki Minaj went big in pink, complete with a feathery head piece. Brittney Griner wore a gentle blush suit by Calvin Klein, who also dressed her wife, Cherelle Griner, in a sleek strapless gown close to the same color.
Many in the crowd of 400 counted Lagerfeld as a friend or worked with him at Chanel, Fendi, Chloe or one of the other fashion houses where he created during a career that spanned more than 60 years.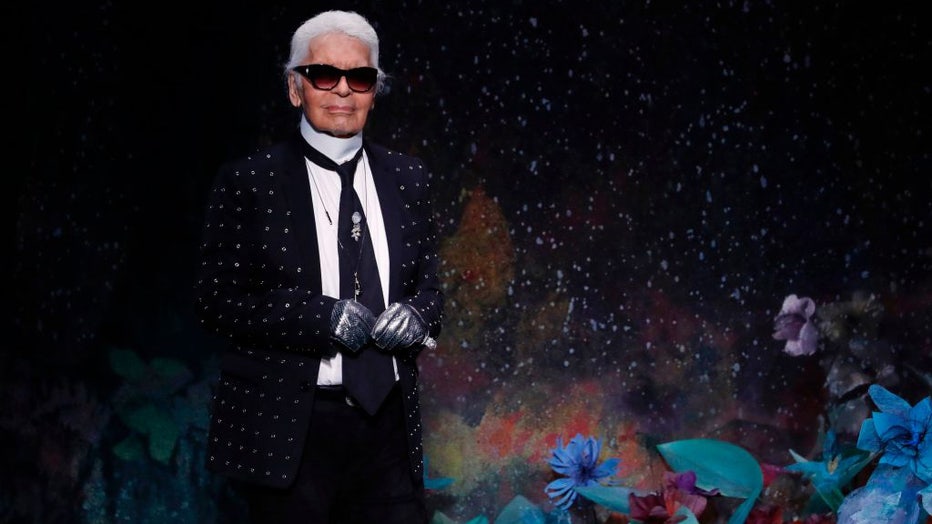 FILE-German fashion designer Karl Lagerfeld acknowledges the audience at the end of Fendi 2017-2018 fall/winter Haute Couture collection in Paris on July 5, 2017. (PATRICK KOVARIK/AFP via Getty Images)
Many of the A-list guests wore black to walk the unusual carpet in a line design. It was a color Lagerfeld wore almost exclusively. Black-and-white combos were also plentiful.
Gigi Hadid wore Givenchy in black with feathers, a drop waist and sheer train in tulle. It took more than 300 hours to make. Kendall Jenner was also in black, sans pants. She wore a sparkly leotard with long sleeves that has pieces doubling as a train. On her feet were kinky, towering black boots, all courtesy of Marc Jacobs.
Jenner's high white collar was a nod to those worn by Lagerfeld. Her hair was in a high ponytail.
Among them was Rita Ora in a stunner of a peekaboo sheer look from Prabal Gurung. It was black silk tulle with corset detailing and sexy draping in silk chiffon. One shoulder was dropped.
Margot Robbie, who stars in this summer's "Barbie" live-action film, wore a 1993 Chanel look in black that Cindy Crawford first wore on a runway. Robbie said she was the last Chanel ambassador to be handpicked by Lagerfeld.
"I feel really great in it. It's an honor," she said.
The invitation-only gala earned $17.4 million last year for the museum's Costume Institute, a self-funding department with a budget dependent on the A-list affair. The price of attending went up this year to $300,000 for a table and $50,000 for a single ticket.
The guests from fashion, film, music, theater, sports, tech and social media were asked to dress "in honor of Karl" by gala mastermind Anna Wintour, a close Lagerfeld friend who first signed on to the event in 1995 and took over the helm in 1999.
The party, which fashion publicist Eleanor Lambert thought up back in 1948, coincides with the Costume Institute's blockbuster spring exhibition: "Karl Lagerfeld: A Line of Beauty."
American fashion was last year's vibe. It followed gilded glamour and white tie. Camp was the theme in 2019, producing what is considered one of the wackiest displays of dress by the celebrity crowd.
Lagerfeld worked for Chanel, Fendi, Chloé, Jean Patou, Balmain, his own brand and more.
This year's five hosts include Wintour, as usual, and also Michaela Coel, longtime Chanel ambassador Penélope Cruz, and recently retired tennis superstar Roger Federer.
Cruz looked like a bride with a sheer hood on her white Chanel belted gown with silver details from spring/summer couture collection in 1988.
Asked how he got to be a Met Gala co-chair, Federer said it helps to know Wintour. He said it makes sense for athletes to be at the gala because they've become a bigger part of the fashion world in recent years.
"I think the sports people have gotten more and more fashionable," Federer told the AP. "We're fortunate to get onto covers much more frequently nowadays. Before it was always the models, the good-looking people, not the athletes."
Fendi, where Lagerfeld worked for more than 20 years, was also represented. Suki Waterhouse wore a 2019 Fendi design by Lagerfeld in silk tulle and delicate flowers and birds on sheer panels.
"Abbott Elementary" creator Quinta Brunson knows her fashion and studied up before this, her first Met Gala. The writer-actor said her dress was inspired by a piece in a Lagerfeld 1992 collection, while her hair inspiration came from one of his 2003 shows.
Asked how she felt about attending her first Met Gala, Brunson said, "I'm just speechless. I'm just really happy to be here."
Lagerfeld's cat, Choupette, had been rumored to attend but her humans posted on Instagram earlier in the day the 11-year-old feline was staying put in Paris. Doja Cat's cat-eared hood on a sparkling white and silver-beaded dress was an ode. She wore prosthetics that gave her a feline face and claws.
Chloe Fineman carried a cat-shaped bag and Emma Chamberlain wore "Choupette blue," a light blue hue created by Lagerfeld. James Corden also showed up in the shade.
As for Leto, he swapped out his cat costume for a black caped look.
___
Associated Press Writer John Carucci contributed to this report.