Latin Restaurant Week is here, featured menus to try
NEW YORK - Latin Restaurant Week offers deals from over 30 different restaurants in New York City.
During Latin Restaurant Week, restaurants and food trucks offer delicious meals from all over the world at a great price.
From June 2-16, enjoy the diverse flavors of Latin America, while supporting local Latinx businesses.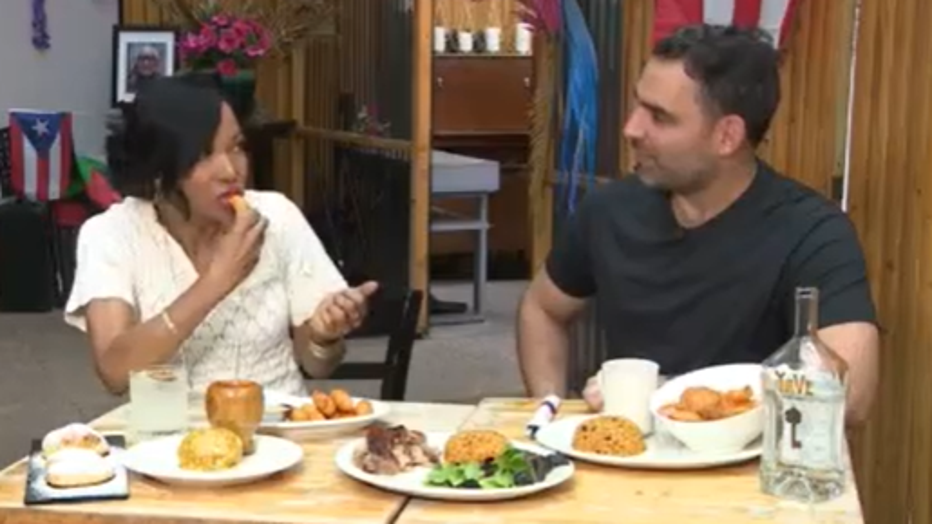 Fox 5 NY's Christal Young sits down with La Fonda owner, James Gonzalez to talk about what makes this restaurant special and to try some of their most famous dishes.
La Fonda
This restaurant has been serving the community for over 35 years.
La Fonda offers the best of Puerto Rican cuisine for breakfast, lunch, and dinner.
The owner, James Gonzalez says the restaurant has always been for the people and the community. The live music is inviting and makes patrons feel like they took a trip to Puerto Rico for the day.
La Fonda is most known for their mofongo, mashed plantains.
Patacon Pisao
Patacon Pisao started out as a food truck in Washington Heights, but now it is a bustling restaurant in Queens. 
Founded in 2005, the name means flattened plantain, and they are best known for using them in most of their dishes.  
Patacon uses generation-old family recipes to represent the traditional flavors found in Venezuela.  Their casual atmosphere, large portions, and prices bring people from all over.
Featured menu items
The Patacon, world renowned plaintain sandwich
The Cachapa, sweet corn crepe
The Arepa, corn meal patty
Beija Flor
Beija Flor is a contemporary Brazilian restaurant in Long Island City. The restaurant provides a wide range of Brazilian food in a cozy environment. 
Beija Flora has a touch of rustic elegance that makes their guests feel at home from the moment they walk in. 
Calle Dao
When was the last time you had a Cuban sandwich spring roll? 
Calle Dao is a cross-cultural cuisine restaurant that fuses Cuban and Chinese foods. The unique flavors from both countries make for flavorful plates. 
They have multiple locations throughout NYC: Chelsea, Bryant Park and Downtown. They are offering deals for brunch lunch and dinner.
Pallo Santo 
Another restaurant that is all about fusion – Palo Santo in Brooklyn serves Pan-Latin cuisine inside a brownstone. 
The menu has blends of Latin American and Caribbean foods. Chef Jacques Gautier's has a daily changing menu for his visitors. The cooking is rustic and simple. They offer a range of prix fixe menu items and bottomless mimosas and sangria.
Menu
Huevos Bañados, poached eggs, chile hollandaise, grilled bread, beans, avocado
Whole Grilled Black Sea Bass, green beans, kalamata olives, radish
Corn Flake Fried Chicken, jersey peach, watercress, bacon, hot honey
For more information visit www.latinrestaurantweeks.com.