Kevin Durant sneakers designed by NYC artist
NEW YORK - NBA star Kevin Durant may be leaving the Brooklyn Nets but he recently released the 15th edition of his signature sneaker. While it's being sold by Nike—the shoe was actually designed by an independent artist based in New York City.
The sneaker is dubbed the "KD15 Timothy Goodman" after the artist that designed them.
"It's about my love for New York and that's what this shoe really is. It's about Brooklyn, it's about the people here. It's about anywhere you are—and you buy this shoe—you have a piece of Brooklyn on your feet," says Timothy Goodman, an NYC-based artist, designer, and author. "As a massive NBA fan, as a massive KD fan for not just for his play on the court, but what he does for our communities—is so important to me. So being able to be a part of all of this has really been a dream."
Goodman who doesn't consider himself a sneakerhead says the feedback has been overwhelming.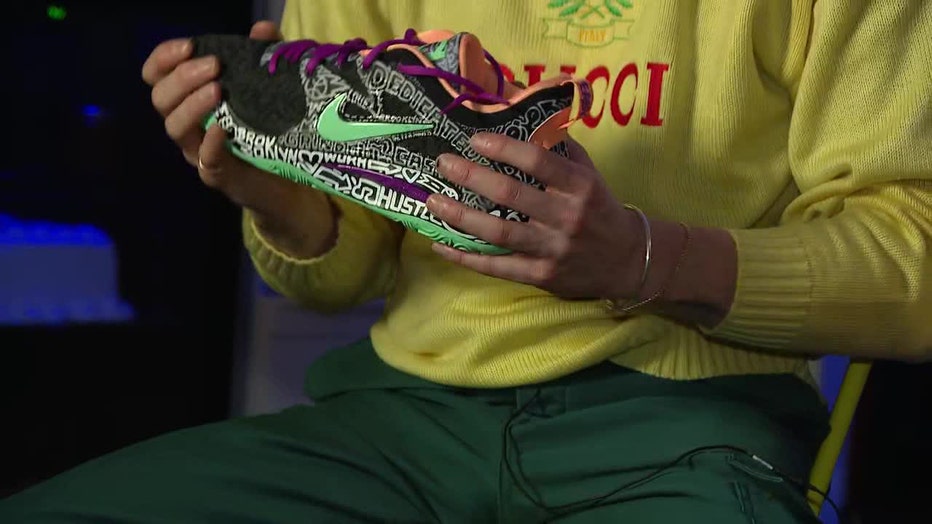 Timothy Goodman designed Kevin Durant's latest sneaker.
"I was just trying to make something I thought was dope for everyday people, you know?" adds Goodman. "It's been really cool. I've been talking to a lot of sneakerheads—people in that community and they all seem to dig it. So, you know, that's just an extra cherry on top."
The colorway is now only available on resale sites after it quickly sold out on Nike.com.
"It's a privilege to be able to pay $150 / $60 for sneakers," says Goodman. "If someone's going to drop that, I want them to really feel like they have something special."
The Cleveland native says it only took him a day to design the sneaker which draws inspiration from the city he's called home for almost the past two decades.
"So much of the art that I created in this shoe also came from the narrative post-pandemic during the pandemic that New York is dead. As a New Yorker, someone who's lived here for 18 years and is going to die here probably—I felt a way about that. You know what I mean? The city is not dead. It's important for me as an artist to stay here, to put my money, my resources, my art back into the community and to further make it as great as we all know it is."
The upper of the "KD15 Timothy Goodman" highlights graffiti-style contrasting typography and is set against bright peach, aqua, and purple accents. "DEDICATED", "GRIND," "HUSTLE," "BK" and "LOVE" are among the words used to create the tapestry of the Brooklyn-inspired shoe.
"So many of the colors I was choosing for this were really about like that 80s Brooklyn, Spike Lee Vibe, you know, the stuff I grew up on—and Nike was incredible about letting me explore all the colorway and everything—and they let me go with this," Goodman says.
Goodman's work has graced everything from buildings to galleries, he's worked with brands such as Apple and Google and created apparel lines for Uniqlo and YSL—but this was his first time designing the look of a sneaker.
"I think I'm one of the only, if not the only—but one of the only independent visual artists who has ever put art on a Nike basketball shoe. So, you know, it's really been a blessing," Goodman says. "When you're working on a sneaker, obviously there is limited real estate for where your art can go and it has to go small. So that was so much a part of the process early on working with Nike and Kevin was, 'How do I get my art on as much of this shoe as possible, but also like stand out on a corner, you know? How do I make it look amazing for Kevin on the court, but also something that everyday folks want to buy and wear on the streets with your favorite fit. How do I make the dopest basketball shoe you've ever seen?"
"I'm switching the flavors up a little bit more than I used to in the past," Durant said on an episode of The ETCs, adding the vibe of the borough he's called home since 2019 serves as an inspiration to him as well. "It plays a huge part. Music, art, and basketball, to me, I feel like it's all the same art form. It's something that resonates with me and I try to incorporate it in my shoe." 
Each draft was approved by the 12-time All-Star himself, who Goodman met while sitting courtside at a Nets game at the Barclays Center in December.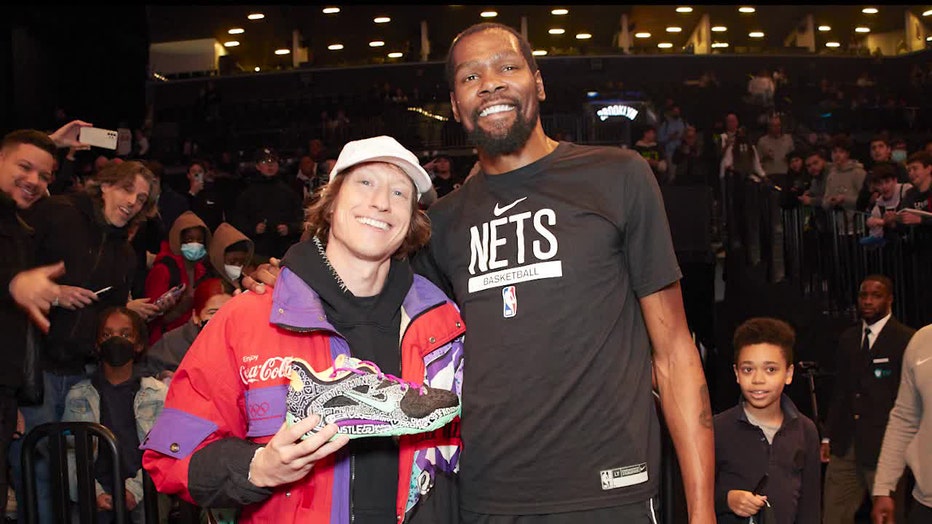 Timothy Goodman designed Kevin Durant's latest sneaker.
"Kevin is one of the greatest players of all time, who wouldn't want to work with the guy? And on top of it, his charitable work and the way he works with communities and kids—really touches my heart. That's really important for me as an artist. I'm constantly donating murals to schools and doing workshops with kids. And so it really there was it was like a perfect mesh."
Goodman adds his muse was actually the one who recommended him to Nike after the artist partnered with Durant's charity foundation to create a 5500-square-foot basketball court for the students at P.S. 152/315  at the intersection of Bedford and Glenwood in Brooklyn back in 2020. The project is part of the "Build It and They Will Ball" initiative which aims to make quality courts more accessible to underserved youths across the US and abroad.
"I held workshops working with the students there and they really told me—inspired me what they wanted to see on the court—what I would draw. So I basically drew all over this court for a week in my signature style, and it all highlighted all the things about the community for them in Brooklyn and their school—it was really a dream collaboration. When I'm working with something like this—giving students a basketball court—the art becomes a sense of ownership for the students. So I do the art, I leave, and then it's for them—it's for the community. They have a sense of pride, a sense of ownership over their court. They get to go, 'Yo, I got the dopest court you've ever seen.' You know what I mean?"
Artist, designer, illustrator, muralist, and author Goodman is a 5-tool player. The 40-year-old recently designed the cover of Time magazine's 'The Secrets of Happiness Experts' issue and his third book, 'I Always Think It's Forever,' will be out in January.