FBI raids Russian oligarch's homes in NYC and DC
NEW YORK - Federal agents on Tuesday raided two homes — a mansion in Washington and a historic townhouse in New York City — that are tied to Russian oligarch Oleg Deripaska. The FBI described the operations as "law enforcement activity" and would not provide any additional information about the circumstances surrounding their presence at either property or any information about potential investigations involving Deripaska.
The billionaire tycoon made his money in aluminum and is a close ally of Russian President Vladimir Putin. 
"This is a businessman that was in the metals industry and various different companies with extremely close ties to the highest levels of the Russian government and ended up making just tremendous amounts of money in the billions and billions of dollars," Doug Burns, a former federal prosecutor, told FOX 5 NY.
While FBI agents removed boxes from the townhouse on Gay Street in Manhattan's West Village, other agents conducted a similar search at a posh townhome in Washington's Embassy Row.
FBI agents searched a historic townhouse in Manhattan's West Village on Tuesday, Oct. 19, 2021. (FOX 5 NY Image)
A spokesperson for Deripaska told reporters that the searches were "connected to U.S. sanctions" and that the homes didn't belong to him but belonged to relatives.
Get breaking news alerts in the free FOX5NY News app | Sign up for FOX 5 email newsletters
The sanctions imposed on Deripaska in 2018 prevent him from doing business or owning property in the United States.
The Russian billionaire also has worked with former President Donald Trump's ex-campaign chair Paul Manafort, who was convicted in the Russia probe. Trump later pardoned Manafort.
Deripaska's name also comes up several times in special counsel Robert Mueller's report investigating Russia's interference with the 2016 presidential campaign because he knew Manafort.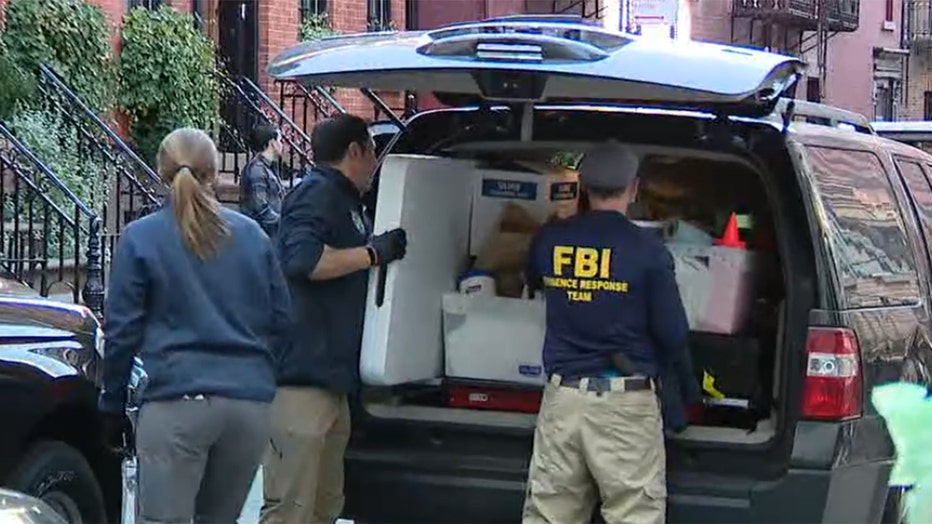 FBI agents removed several boxes of items from the home and loaded them into vehicles in Manhattan's West Village on Tuesday, Oct. 19, 2021. (FOX 5 NY Image)
But Burns told FOX 5 NY he believes these searches may have more to do with the sanctions than politics. The U.S. Treasury Department's Office of Foreign Assets Control, or OFAC, once issued a report about Deripaska and his ties.
"[OFAC] specifically cited in the report that he had threatened the business competitors," Burns said. "They alleged that he may have been involved in money-laundering activities."
The Treasury Department, under the Trump administration, lifted financial sanctions on three companies connected to Deripaska. The sanctions against Deripaska himself remain.
The historic townhouse is located on Gay Street in the West Village. (FOX 5 NY Image)
With The Associated Press.