City Council speaker wants Rikers Island closed by 2027: here's her plan.
New York - City Council Speaker Adrienne Adams, laid out an ambitious agenda, in her State of the City address, on Wednesday. 
Unlike a budget address, this speech does not put a price tag on items, it lays out a wishlist. 
Adams is calling on the council to keep its commitment to permanently closing Rikers Island by 2027. 
 
A law passed by city council members, requires that the Rikers jail complex be replaced with smaller jails in four out of the five boroughs in just four years. 
However, the jail population at Rikers has increased and some, like Mayor Eric Adams, have been calling for a plan b. 
 
President of the union that represents correctional officers, Benny Boscio, said in a statement, "It's ironic that Council Speaker Adrienne Adams reaffirmed her misguided call to close Rikers Island today, yet she has seemingly abandoned her call over a year ago to make the sexual assaults of Correction Officers a Felony instead of a Misdemeanor. Rather than supporting a flawed plan to replace Rikers with four new borough jails, which can only hold half of the inmates we currently have, she should pursue her own resolution to change the penal code and protect our members who are victims of sexual assaults while at work."
 
Speaker Adams also wants to invest more on community based programs to help prevent violence and hate crimes.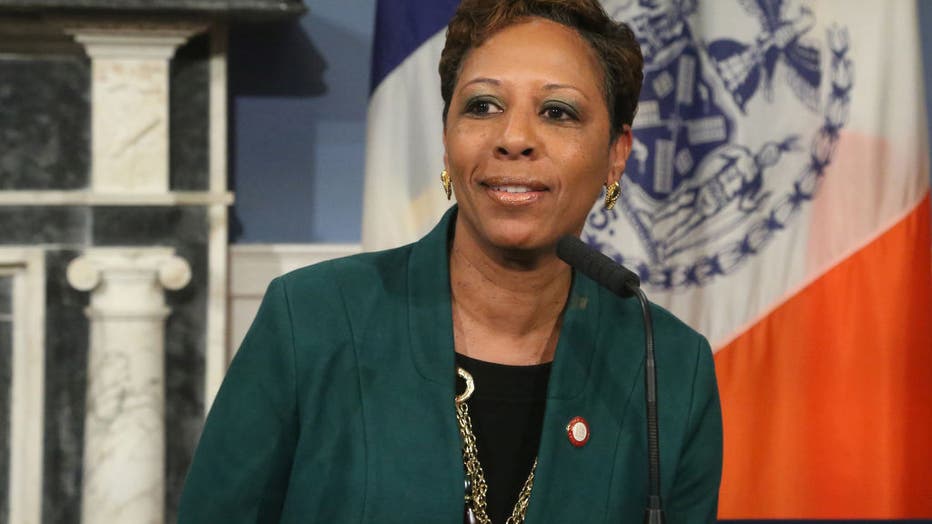 New York City Council Member Adrienne E. Adams at a bill signing ceremony in City Hall on Monday, April 30, 2018. Adams was elected the next speaker of the City Council on Wednesday, Jan. 5, 2022, becoming the first Black woman to ever take on the po
People have come to realize that public safety is multi-dimensional and requires holistic solutions," Adams said. "The policies relied upon in our past have not stopped cycles of violence nor prevented intergenerational trauma in our communities."
But some lawmakers would have liked to hear about how the city is going to invest in the NYPD.  
"Yes, I believe in social services as well, but we cannot take more money from the NYPD," Councilwoman Ariola says.
Adams is also proposing utilizing unused, open space on NYCHA land to develop new, higher-density buildings that would have a combination of NYCHA (NYC Housing Authority) residents, mixed income units and commercial spaces. 
It would require the city, state, and federal government to approve this plan and finance it. 
"Ground-floor usage could be reserved for community or healthcare centers, grocery stores, childcare centers, or other storefronts," Adams said. 
The speaker also touched on expanding the fair fares program, filling vacant city jobs and creating year round public pool access. 
 
One thing notably missing though, is any mention of the migrant crisis and how the city plans to deal with this influx that is currently costing taxpayers $5 million a day.