Toddler, teen driver, others killed across Northern California during deadly storm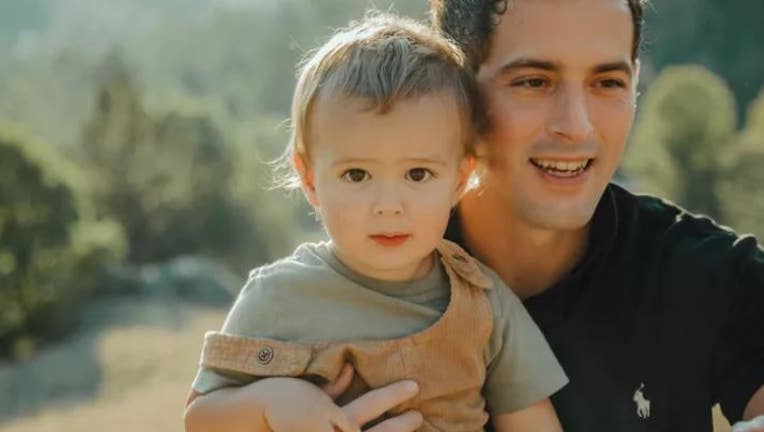 article
OCCIDENTIAL, Calif. - A toddler in Sonoma County was killed when a rain-soaked redwood tree crushed him during the heavy rains – and others across Northern California died in car crashes and in floods, officials said.
The 2-year-old boy – Aeon Tocchini – was killed Wednesday night when the tree fell on his home on Joy Road and he was found covered in debris, according to Occidental Volunteer Fire Department Chief Ron Lunardi. 
Occidential is a small city of about 1,000 people near Santa Rosa and Petaluma. 
The mother and father were also in the home but were uninjured, Lunardi said. 
He said the father was "frantic" and came running out of his home yelling: "My child is not breathing."
In an interview with the Santa Rosa Press Democrat, Aisha Tocchini called Aeon, whose nickname was "Goldie" because of his blond hair and sunny personality, the light of their families' lives. 
She had just come in from checking on their horses and sheep when she heard the crack of a tree crashing on her double-wide trailer about 5 p.m. 
Aeon and her husband, Dan, were inside. 
The falling tree had pinned her son down. Neighbors helped free the boy by sawing away the wood. But it was too late. 
Aeon's two siblings, Eden and Danny, were not injured when the tree fell.  
"Our hearts are broken and our family is shocked and rocked to the core," his aunt Liz Haskins wrote on a GoFundMe.  "His light still shines so brightly in our hearts, and always will."
The funds raised will help the entire family rebuild their destroyed home and truck, as well as pay for the funeral of a toddler who loved to dance and play in the outdoors.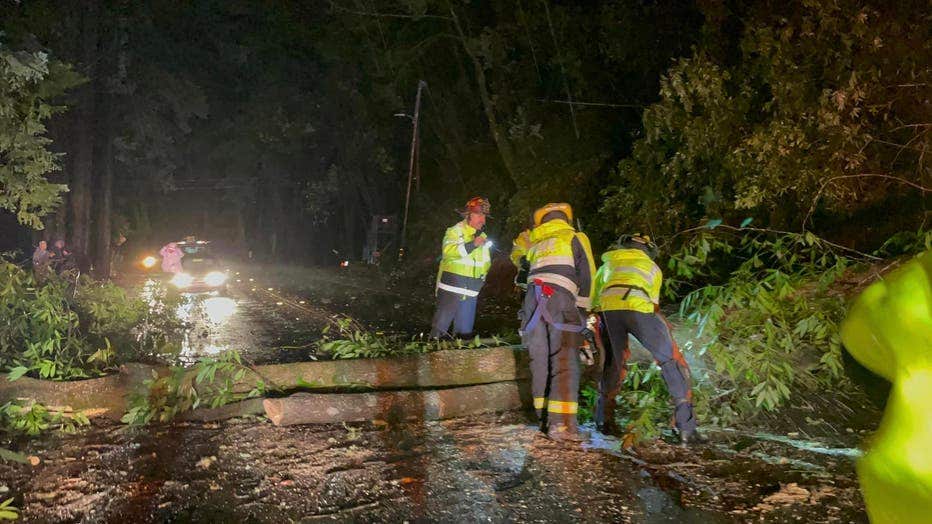 Sonoma County fire crews deal with downed trees after the Jan. 4, 2023 storm. 
MORE: Bay Area storm updates: live blog
Nearby in Solano County, a 19-year-old woman driving eastbound on Vanden Road in Fairfield encountered a patch of standing water and hydroplaned, losing control of her car and died with when crashed into a light pole, police said.
Police said that she was driving too fast for the rainy conditions and the roadway flooding did not help.
And further north in Sacramento County, crews discovered the bodies of two additional women stemming from the Sacramento-area flooding following a storm on New Year's Eve, bringing the total number of drivers found dead in submerged cars to three. 
One of the victims was a woman found in a field east of Highway 99 by California Highway Patrol officers. The CHP was towing cars that were abandoned amid deep water from the swollen Cosumnes and the Mokelumne rivers. The police believe the woman had been traveling in such a car.
She was identified as 57-year-old Mei Keng Lam of San Leandro, KCRA reported. Another woman was found in a submerged car elsewhere. 
A man had previously been found in a submerged car near Highway 99.
MORE: The aftermath of the latest Bay Area storm: trees down, rocks on roadways
Throughout the San Francisco Bay Area, the storm dumped rain throughout the region, but most heavily in the North Bay along the Russian River and further south in Santa Cruz County, where many were evacuated. 
The Peninsula also suffered damage. A gas station collapsed in Daly City. 
Powerful winds gusting to 85 mph or more forced the cancellation of more than 70 flights at San Francisco International Airport and downed trees and power lines. Firefighters rescued a family after a tree fell onto their car. The fire department reported "large pieces of glass" fell off the Fox Plaza tower near the Civic Center, although no injuries were reported. It was "highly possible" the damage was wind-related, the department tweeted.
More than 180,000 homes and businesses were without power in California early Thursday, according to poweroutage.us.
The storm is the latest of three so-called atmospheric river storms in the last week to reach the drought-stricken state.
Meteorologists say Thursday will see lingering rain, Friday will see a break in the wet weather, and more rain will be in store on Saturday into next week. 
The Associated Press contributed to this report.