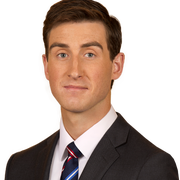 Characters make a story memorable: jokesters, geniuses, gossips, children, octogenarians, your neighbor Maureen, your uncle Jerry, cobblers, clock-winders, professional foosball players, artisan mayonnaise-makers.
In this job (and in life), I like to think I seek out characters. I'm a reader (fiction, non-fiction, books, magazines, the entire Internet). I'm a TV/movie-watcher. I'm a former camp counselor. I'm an intramural sports enthusiast.
Every story of my little league career is at least mildly exaggerated. I grew up on Bainbridge Island, Wash., with two sisters, Newfoundland dogs and Siamese cats. My parents still live there with all of those pets and all of my favorite sports teams.
I went to high school at Andover, where I spent more time playing stickball than studying for chemistry (Mr. Cardozo gave me a C). I then attended Bates College, where I wrote a sports column for the school paper filled with more drinking jokes than game stats (thankfully, the online archives seem to have vanished). I went to graduate school at Northwestern, where I once submitted a story about the most delicious cinnamon brioche in all of Chicago.