New York City is sinking under the weight of its buildings: Study
NEW YORK - The Big Apple could be underwater in the near future, and its skyscrapers are to blame. That's according to a new study published last week.
The study, which was published in the American Geophysical Union journal, says that New York City is sinking 1-2 millimeters a year, while sea levels are projected to rise by 200-600 millimeters by 2050.
According to the study, the combined weight of New York City's buildings, a whopping 1.68 trillion pounds, is contributing to the problem, causing immense pressure to be exerted on the mixture of sand, clay, and silt that make up much of the ground underneath the city.
Manhattan lies between one and two meters above sea level, so combined with rising sea levels due to climate change, even a small amount of sinking each year could lead to disastrous results in the future.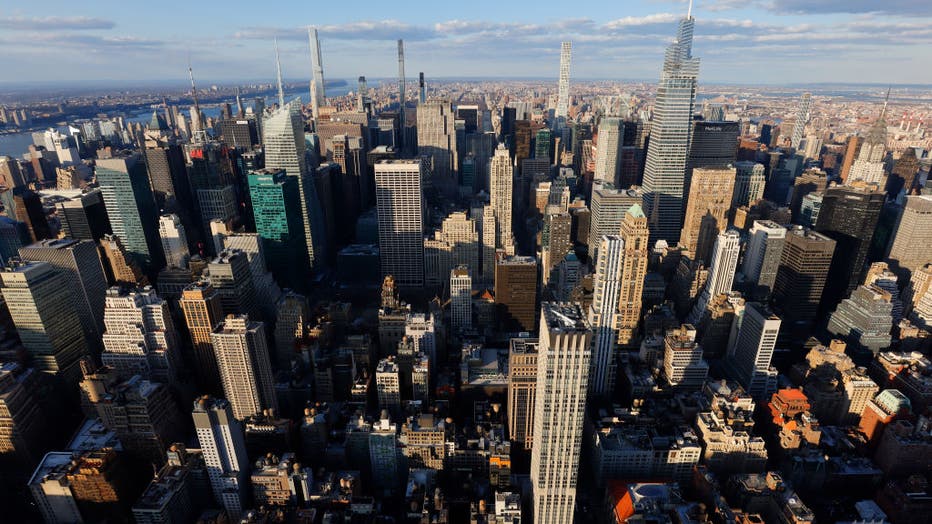 The view north from the 86th floor observation deck of the Empire State Building on March 18, 2023, in New York City. (Photo by Gary Hershorn/Getty Images)
In 2012, Hurricane Sandy inundated much of Lower Manhattan with seawater, while in 2021, heavy rainfall from Hurricane Ida overwhelmed drainage systems because of heavy runoff. 
"New York is emblematic of growing coastal cities all over the world that are observed to be subsiding," the study says. "Meaning there is a shared global challenge of mitigation against a growing inundation hazard."
The study also warns that in the years since Hurricane Sandy, New York City still hasn't done enough to prepare itself for potential future flooding.
"New York City is ranked third in the world in terms of future exposed assets to coastal flooding, and 90% of the 67,400 structures in the expanded post-Hurricane-Sandy flood risk areas have not been built to floodplain standards," the paper reads.
With 70% of the world's population expected to be living in cities by 2050, increasing urbanization will drive construction and is likely to exacerbate subsidence, which, combined with accelerating sea level rise, could cause major flood hazards in coastal cities across the globe.