Houston legend Big Pokey passes away after fainting on stage
HOUSTON - Houston-legend Big Pokey passed away Sunday after fainting on a stage, FOX 26 has learned.
Details on Big Pokey, whose real name is Milton Powell, and what led up to his passing have not been released, as of this writing. However, Big Pokey's publicist confirmed the tragic news with FOX 26. He was 48.
SEE OUR 2021 INTERVIEW: Houston rapper Big Pokey releases new solo project
Video circulating online shows the rapper passing out on stage during a Saturday night performance in Beaumont.
He was rushed to a hospital and despite CPR efforts to revive him, he died at the hospital.
"He text me again saying okay they're doing CPR, and then he said they taking him to the hospital... and I guess he was saying it was cardiac arrest," said Houston rapper Lil' Flip and friend of Big Pokey.
Houston rapper Lil' Flip received a text from someone at the show informing him of what happened. He and Big Pokey had an upcoming show scheduled together.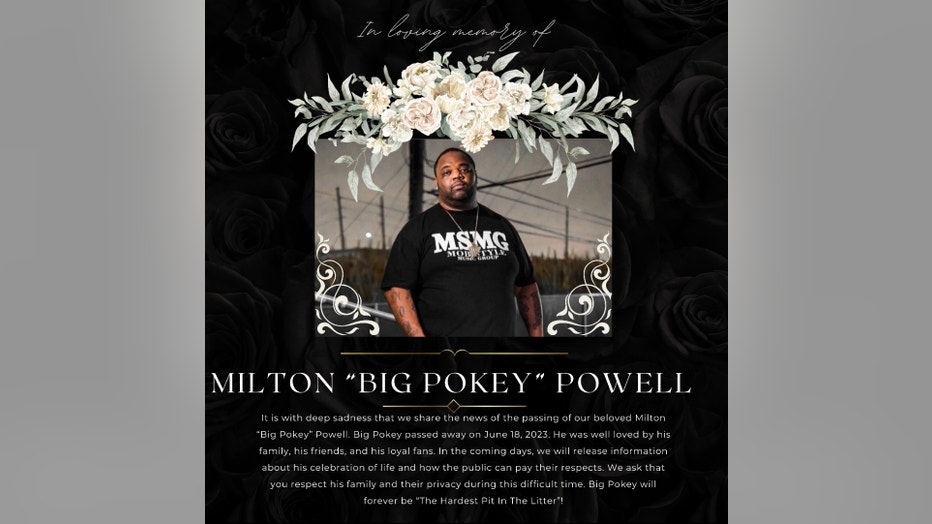 (Photo courtesy of Big Pokey's Publicist, shared with permission) 
"I get a text from somebody, and they were like 'Man, y'all were supposed to do the June 27 show coming up.' I'm reading the text and I'm like 'Why are y'all saying 'y'all were supposed to''?"
And on Sunday, fellow legendary Houston rapper, Bun B shared a somber and surprising post on Instagram announcing Big Pokey's death.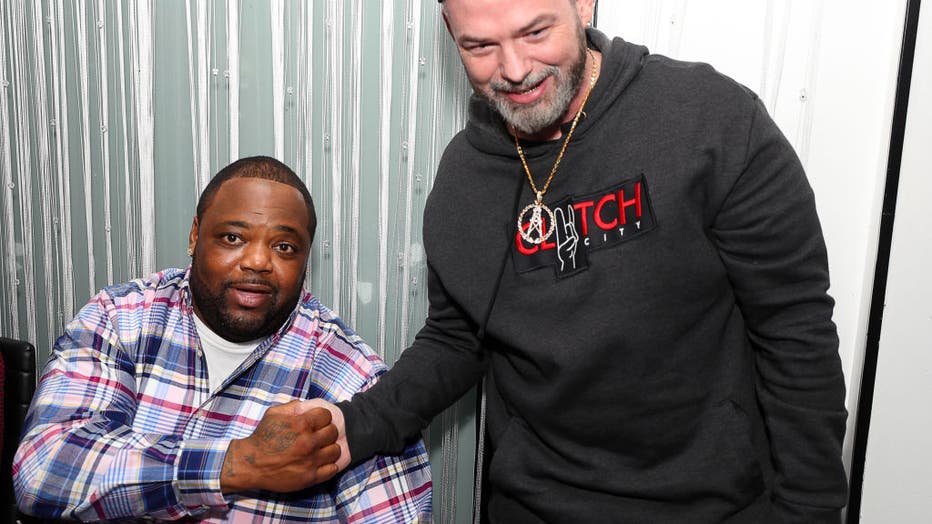 HOUSTON, TEXAS - FEBRUARY 08: Big Pokey sand Paul Wall at the Lil KeKe Legends Only Listening Party Dinner at Five Central Houston on February 08, 2022 in Houston, Texas. (Photo by Bob Levey/Getty Images)
"Low key, humble mountain of a man who moved with honor and respect. He was easy to love and hard to hate," Bun B said in the caption. "There will never be another and will be missed dearly. We love and honor you Sensei. Rest in heaven."
RELATED: Big Pokey Death: Tributes pour in for legendary Houston rapper
Paul Wall posted a video of Big Pokey to Instagram saying he was quote, "A trendsetter and a leader."
"It doesn't matter how much fame he had he always had the same spirit," Lil' Flip stated. "It's a huge loss because we considered him one of the freestyle kings. The world just needs to know, Big pokey he died doing what he loved; he died performing and I find peace in that."
DOWNLOAD THE FOX 26 HOUSTON APP
Big Pokey's publicist shared a statement on behalf of the family asking for privacy but told FOX 26 that the cause of death is pending as they wait for autopsy results. 
"It is with deep sadness that we share the news of the passing of our beloved Milton 'Big Pokey' Powell. Big Pokey passed away on June 18, 2023. He was well-loved by his family, his friends, and his loyal fans. In the coming days, we will release information about his celebration of life and how the public can pay their respects. We ask that you respect his family and their privacy during this difficult time. Big Pokey will forever be 'The Hardest Pit in the Litter.'" 
His publicist also says in the days to come they'll release information about his celebration of life and how the public can pay their respect--
This is a developing story and will continue to be updated as more information becomes available.